July 4th, 2011 Posted in
Colonial
,
Newtown
,
Taverns & Inns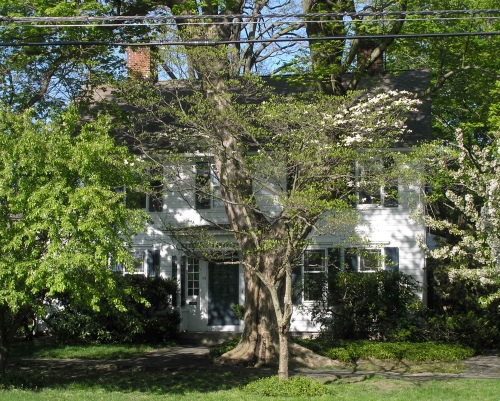 Happy Fourth of July! During the Revolutionary War, the French General Rochambeau's army passed twice through Newtown: first in June, 1781, during the march to the Battle of Yorktown, and again in October, 1782, during the return march. On June 23, 1781, Claude Blanchard, the French commissary officer, arrived five days before the army to make arrangements for supplying the French camps. As Blanchard related in his diary (translated by William Duane, edited by Thomas Balch and published in 1876):
Newtown is on a hill surrounded by hills which are still higher. There are only a hundred houses with two temples [churches]. One of them was near the place where I lodged; and, as it was Sunday, I saw many people from the vicinity dismount there. As all the inhabitants of the country are proprietors and, consequently, in pretty easy circumstances, they had come on horseback, as well as their wives and daughters. In the neighborhood of Boston, they come in carriages; but here the country is mountainous and the horse is more suitable. The husband mounts his horse along with his wife; sometimes there are two women or two young girls together; they are all well clothed, wearing the little black hat in the English style, and making as good an appearance as the burghers in our cities. I counted more than a hundred horses at the door of the temple, where I heard singing before the preaching, in chorus or in parts. The singing was agreeable and well performed, not by hired priests and chaplains, but by men or women, young men or young girls whom the desire of praising God had assembled.

To-day I was rejoined at Newtown, where I spent the whole day, by M. de Sançcon, my secretary and some surgeons and apothecaries. I pointed out to them the site which I had selected for the hospital, and set out, on the 25th, to proceed to the American army.
Blanchard stayed in Newtown at the Caleb Baldwin Tavern, which had been built about 1763. Caleb Baldwin was a schoolmaster, postmaster and town clerk in Newtown. The tavern is where local farmers would drink sassafras beer after the sheep grazed in Ram Pasture. According to Newtown's History and Historian, Ezra Levan Johnson (1917):
Caleb Baldwin's Inn had the reputation of being the pattern of neatness, homelike in all surroundings and it was also claimed that there could be had the best broiled chicken or sirloin steak to be found in Fairfield county. The motherly reputation of the hostess made it a much sought place for restfulness.
The building remained in the Baldwin family until 1917. Still standing at 32 Main Street in Newtown, the former tavern was later remodeled twice, in the Federal and Victorian eras.