October 14th, 2015 Posted in
Federal Style
,
Houses
,
Windham
|
No Comments »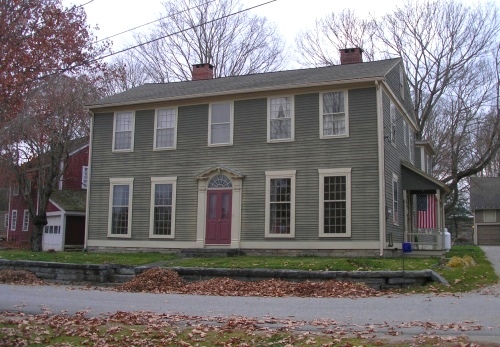 The J. Hebbard House in Windham Center is notable for its Late Georgian/Federal front door with fan light. Located at 11 Windham Green Road, the house was built c. 1783. It is also known as the Dr. Guild House. This is most likely Dr. Frank E. Guild, who is described in A Modern History of Windham County, Connecticut, Vol. II (1920):
Dr. Frank E. Guild was born in Thompson, August 14, 1853, son of Rev. John Burleigh Guild and Julia Ann Griggs. His father was a Baptist clergyman who preached at Clinton, Packerville and Thompson, in Connecticut. His son was graduated at State Normal School at New Britain in 1874, and from Long Island College Hospital in 1885, teaching school in the interim as a means to a professional education. Doctor Guild began medical practice in Windham, Conn., in October, 1886, and has continued there since, with oflices also at Willimantic. Has been president of Windham County Medical Society, vice president of the state society; member of town school board of Windham thirty years and chairman of the board for the past fifteen years. He was married April 28, 1887, to Harriet Clark, daughter of Edgar Clark of Putnam, who was a civil engineer and employed in surveying the Boston, Hartford and Erie Railroad. Doctor and Mrs. Guild are, respectively, S. A. R. and D. A. R. members, and Mrs. Gui1d's grandmother was a real daughter. They have three children, Alan Clark, Harriet Griggs, and Julia Exton Guild.
Dr. Guild's daughter, Dr. Harriet G Guild, became an authority on children's kidney disease at Johns Hopkins and was the founder of the Kidney Foundation of Maryland.