Thursday, October 12th, 2017 Posted in
Colonial
,
Guilford
,
Houses
|
No Comments »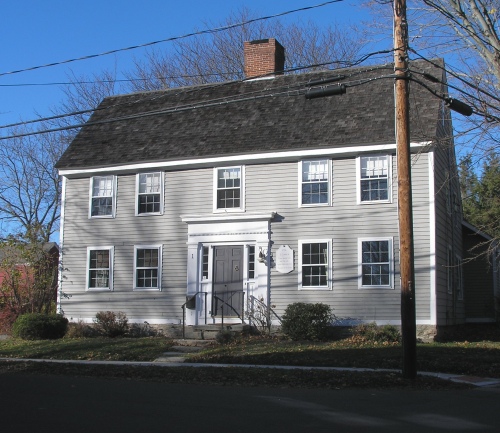 At the corner of State and North Streets in Guilford is a house (1 North Street) built circa 1750. The Greek Revival front door-surround was added later. The house is named for Samuel Lee (1742-1819), who served in the Coast Guard during the Revolutionary War and was promoted to captain just before the war ended. The house may also have been erected later, around the time of Lee's marriage to Agnes Dickinson in 1763. There are many stories of Agnes Lee's bravery during the Revolution when her husband was frequently absent. As recounted in Old Paths and Legends of the New England Border (1907), by Katharine M. Abbott:
Agnes Lee, the wife of Captain Samuel Lee of the Harbor Guard, was a noted foe to Tories. Powder was stored in the attic: one dark night a Tory knocked at her door, when Captain Lee was on duty; "Who's there?" — "A friend." — "No, a friend would tell his name," answered Mrs. Lee, and fired. An hour later, an old doctor of North Guilford was summoned to attend a mysterious gun-shot wound. When the British landed at Leete's Island, Captain Lee fired the agreed signal; "Grandma Lee responded by blazing away on the cannon set at the head of Crooked Lane, for she had not a son, and Uncle Levi was a cripple."
According to another account, armed Torries actually burst in and she held them off until her husband arrived to shoot them. On another occasion, Lee barn caught fire and its sparks threatened the powder stored in the attic of the house. With no one else to save the house, Agnes Lee rushed upstairs and closed the the attic window to shut out the dangerous sparks. She later remarked that she hadn't expected to come back down the stairs alive. The Guilford chapter of the Daughters of the American Revolution is named for Agnes Dickinson Lee.
Samuel's mother and his brother, Levi, also lived with them in the house. In 1794, Levi and his mother sold the house to William Starr, Sr. At that time, Samuel and Agnes built a new house at 292 State Street.