Wednesday, June 11th, 2014 Posted in
Colonial
,
Houses
,
Suffield
|
No Comments »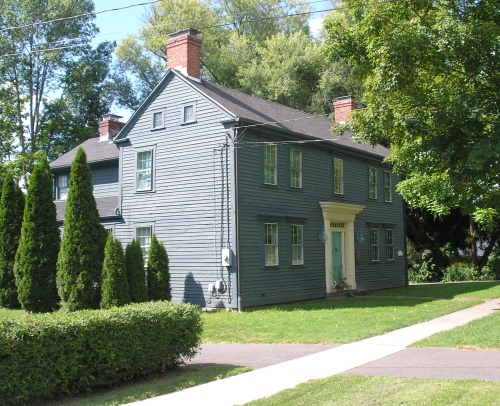 The house at 161 South Main Street in Suffield was built circa 1786-1787 by Elihu Kent, Jr. (1757-1813). He was the son of Elihu Kent (1733-1814), who was captain of a militia company from Suffield that set out in answer to the Lexington Alarm in 1775. Elihu, Sr. was promoted to major in 1777. Serving with him in the militia was Titus Kent, who was owned by Elihu Kent as a slave. According to volume III of the History of the Western Reserve, by Harriet Taylor Upton, Elihu. Sr.'s son, Colonel Elihu Kent, Jr.
married Elizabeth Fitch, of Lebanon, Connecticut. He was also in the Revolutionary army with his father, and was captured by the British on Long Island and confined for a long time as a prisoner of war in the old "Sugar House" in New York, where he suffered greatly. He was a farmer after the Revolution and kept a tavern at Suffield, Connecticut. He was survived by four children.
A window from the old Sugar House survives in New York City today.