Thursday, September 3rd, 2015 Posted in
Federal Style
,
Taverns & Inns
,
Willington
|
No Comments »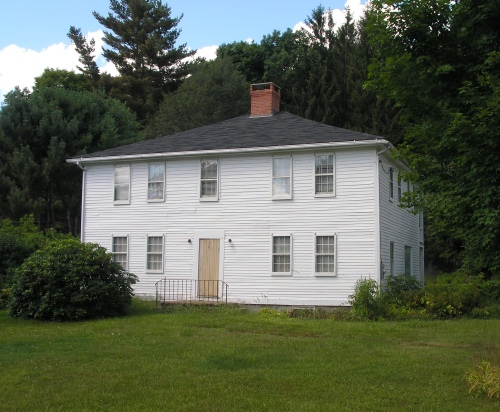 Located at the west end of the Willington Green is the Daniel Glazier Tavern. Built around 1815, the first recorded tavern keeper was Daniel's son Isaac Glazier. The last tavern-keeper was Fielder Heath, who bought the property in 1839. The second-floor ballroom was used for town meetings in cold weather until 1840. The Tavern is thought to have been a station on the Underground Railroad. Charles T. Preston, a lawyer and Civil War veteran, bought the former tavern in 1881. His life is described in The Judicial and Civil History of Connecticut (1895):
Born in Willington, Conn., August 7, 1834. He was educated at the Connecticut Literary Institute at Suffield. He studied law with Hon. Richard Hubbard at Hartford, and was graduated at the Albany Law School. Admitted to the bar in Hartford county in March, 1858. He settled in practice in Hartford, serving during a portion of the war in the Twelfth Regiment of Conn. Volunteers. In 1867 he removed to Willington, where he is chiefly engaged in literary pursuits.

January 15, 1869, he married Mary E. Marsh, of New York city; she died May 2, 1871, and October 8, 1874, he married Carrie A. Preston.
Since 2009 the building has been the home of the Willington Historical Society, which is restoring it.