Wednesday, January 6th, 2016 Posted in
Federal Style
,
Norwalk
,
Public Buildings
|
No Comments »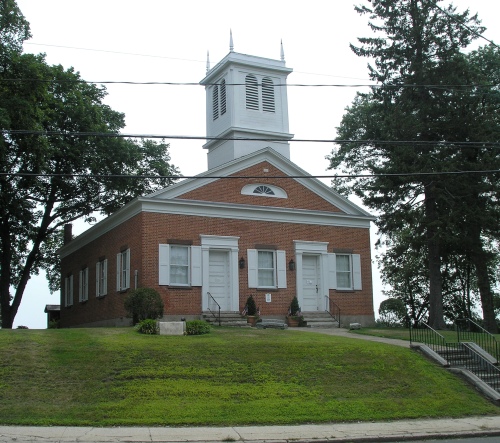 Located in Mill Hill Historic Park in Norwalk is the former Town House (or Town Hall), a Federal-style brick structure erected in 1835. Norwalk's first Town House was erected by 1736 at the site of the old Trolley Barn at Wall and Knight Streets. A newer Town House was later built at Mill Hill, but it was destoyed when the British burned Norwalk on July 11, 1779 during the Revolutionary War. It took fifteen years before a new structure was erected in 1794. As described by John Warner Barber in his Connecticut Historical Collections (1836):
The old town house was pulled down in July, 1835. It had been long in a ruinous state, and much disfigured the appearance of the place. Some persons in the town who took upon themselves the responsibility of regulating things of this nature about the town, being impatient of the "law's delay," took advantage of the darkness of night, pulled down the obnoxious building, and piled up the rubbish by the side of the road.
The current building was built by by Captain Lewis Raymond, who used brick brought to Norwalk as ship's ballast. The building was used as the seat of government until the Town of Norwalk and the City of South Norwalk were consolidated in 1913. Starting in 1924, the Norwalk Daughters of the American Revolution leased the building from the city, eventually adding a rear kitchen wing. The building was restored in 1965 for meeting and educational purposes. Still owned by the city, it is maintained, along with the rest of Mill Hill Historic Park, by the Norwalk Historical Society and the Norwalk-Village Green Chapter of the DAR.