Monday, June 6th, 2016 Posted in
Colonial Revival
,
Farmington
,
Houses
|
No Comments »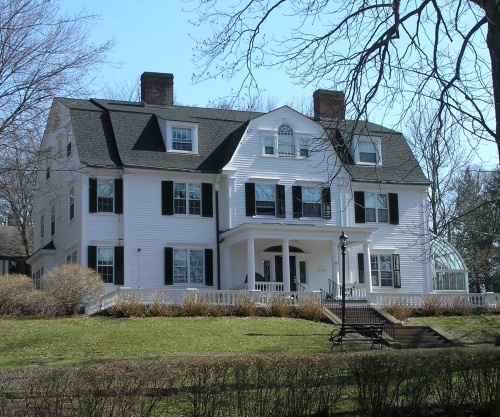 "New Place" is a dorm of Miss Porter's School in Farmington. It was built in 1906 at 53 Main Street on the site of the old Rev. Samuel Whitman House. As related by Julius Gay in Farmington, Connecticut, the Village of Beautiful Homes (1906):
Crossing the road up the mountain we find on the corner the square house with the pyramidal roof and the chimney in the center, owned and occupied by the Rev. Samuel Whitman during his ministry. Parts if not the whole of the building are much older than its well-preserved walls would indicate. Tradition says the kitchen was built out of the remains of the old meeting-house and the Rev. William S. Porter who knew more about the history of the town than any man who lived or is likely to live, says that the house, probably the front, was built by Cuff Freeman, a colored man of considerable wealth, of course after the death of Mr. Whitman.
New Place was erected in 1907 by builder R.F. Jones of Hartford for Elizabeth V. Keep, then headmistress of Miss Porter's School. Mrs. Keep lived there until her death in 1917. She willed the property to Miss Porter's School. Her son, Robert Porter Keep II, became headmaster in 1917 and he and his wife, Rose Anne Day Keep, resided at New Place until 1929.