Sunday, July 12th, 2015 Posted in
Churches
,
Greek Revival
,
Southbury
|
No Comments »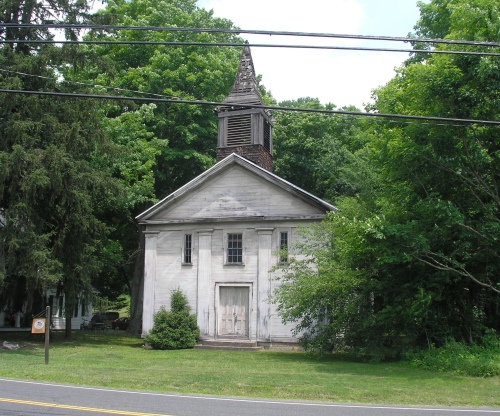 The former Methodist Episcopal Church in South Britain, Southbury, has long been vacant and is in a dilapidated condition. Located at 698 South Britain Road, the simplicity of its design contrasts with the more elaborate Congregational Church directly across the street. The early history of the church is described in the History of Ancient Woodbury, Vol. I (1854) by William Cothren:
The first society of the Methodist Episcopal church, in the present town of Southbury, was organized at the south part of the town, on "George's Hill," about the year 1803, and consisted of about six members. They met at that time in a building formerly occupied as a school-house. But, in a few years, it was greatly enlarged, remodeled, and made more convenient and ample in its accommodations.

The society continued to increase in numbers until the church was filled to its utmost capacity. It soon became quite too small to accommodate the worshiping congregation.

In the year 1832, the society erected and dedicated a larger and more convenient house in South Britain. There they worshiped until the year 1851, when the edifice was enlarged and made a neat and elegant house of worship. The society now (1853) numbers about sixty-five communicants, and the church is well filled with a devout worshiping congregation.