Sunday, March 15th, 2015 Posted in
Bolton
,
Churches
,
Greek Revival
|
No Comments »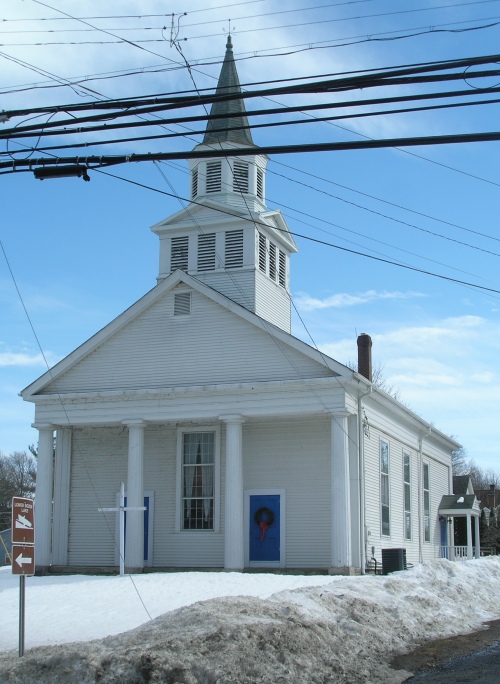 The Bolton United Methodist Church is located at 1041 Boston Turnpike in the Quarryville section of Bolton. The church's history is described in A Historical Sketch of Bolton, Connecticut (1920), by Samuel Morgan Alvord:
The Methodist Church began its work at an early date in Bolton with the first camp meeting ever held in a New England town. The noted itinerant preacher Lorenzo Dow was the leader and great crowds were attracted to his meetings which were held May 30 to June 3, 1805, near the Andover town line directly east of the South District School house. Rev. Mr. [George] Colton [of the Bolton Congregational Church] was deeply offended at this encroachment upon his rights. Camp meetings were held later near camp meeting spring on the South Manchester road.

The first Methodist Church was built at Ouarryville in 1834 near the present edifice. This building was sold to the Universalists in 1851 and moved some distance west and a new church was built the following year. Joseph Ireson was the first pastor in 1823.
A brief history of the "M.E. Church, Quarryville, Connecticut," by Edgar A. Brownell appears in the Souvenir History of the New England Southern Conference in Three Volumes (1897). As Brownell describes:
Methodist meetings were first held in 1823, at the house of Isaac Keeney, and in pleasant weather were held under the shade of trees in the vicinity of what is known as Quarryville, sometimes under a large elm tree, near the late Isaac Keeney's residence.

The first meeting-house was built in 1834, and stood near the site of the present one. and was sold to the Universalist Societv in 1851-2, and removed about eighty rods west. The present meeting-house was built in 1852, and cost between $3,000 and $4,000, and has never been without a minister and a fair congregation.

Some years since the Rev. James S. Thomas, then stationed here, thought the society needed a church bell and a barn. He procured the same, and then set at work to pay for them. During his pastorate here special services were held and a great revival took place, "and the Lord added to the church daily such as should be saved," many of whom are at present members in the church.