Saturday, July 18th, 2015 Posted in
Colonial
,
Commercial Buildings
,
Fairfield
,
Houses
|
1 Comment »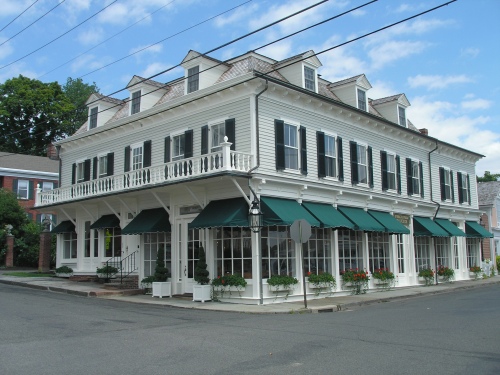 At 668-670 Harbor Road in Southport is a 1787 building that was significantly altered in later years. It may give the impression of being a nineteenth-century mansard-roofed commercial block, but the upper floors began as the homestead of Miah Perry. It was possibly altered and expanded in 1834. By that time the building displayed the influence of the Dutch Colonial style with two low-pitched gambrel roofs intersecting at the street corner. In the 1870s, the house was raised by Nehemiah Jennings to sit above a commercial section. In one part of the new ground floor Jennings ran a market and post office, while the other part contained the John Wood dry goods store. Miss Mary Allis (1899-1987) purchased the building in 1947 and refurbished it the following year. She had started renting space for her antiques store on the southeast corner in 1945. Mary Allis was a major figure in the world of folk-art collecting.
This the 3,000th post at Historic Buildings of Connecticut! That's 3,000 great buildings throughout the state!