Saturday, November 16th, 2013 Posted in
Enfield
,
Houses
,
Second Empire
|
No Comments »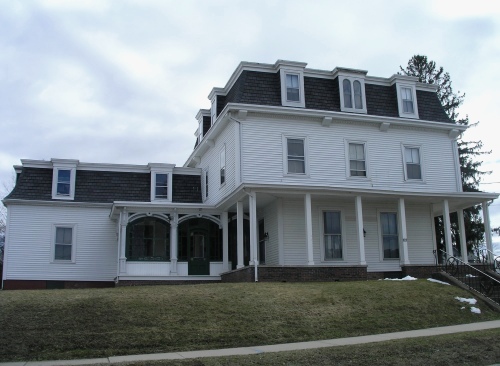 The Mansard-roofed house at 127 Pearl Street in Thompsonville, Enfield, was built c. 1874-1880 for David Brainerd. As recorded in The Genealogy of the Brainerd-Brainard Family in America (1908), by Lucy Abigail Brainard, David Brainerd
was registrar of voters, notary public and justice of the peace, collector of taxes, and represented the town of Enfield in the state legislature in 1862. He was appointed assistant assessor of internal revenue in the first congressional district by Abraham Lincoln, in 1862, a position he held for nine successive years. He has always been active in politics and is a Republican and ready to aid in all advancement for improvements in town, school or church. He has been Elder in the First Presbyterian Church in Thompsonville, Conn., where he resided, and is honored for his sterling worth and noble character.
David Brainerd married Caroline King in 1844. After her death in 1859, he married his first wife's sister, Henrietta King, who died in 1901. One of his sons, Horace, worked with his father in his agricultural warehouse business, then became purchasing agent for the Bigelow-Sanford Carpet Company, and later was manager of the Overbrook Carpet Company. In 1932, the house was acquired by the Masons, who converted for use by a Masonic Lodge and added a ballroom. In 2007, the house was purchased by Enfield Pearl Ballroom & Dance Studio. It was renovated to have four apartments and a ballroom studio, called the North American Dance Academy, which has two dance floors.