Monday, July 13th, 2015 Posted in
Colonial
,
Coventry
,
Taverns & Inns
|
No Comments »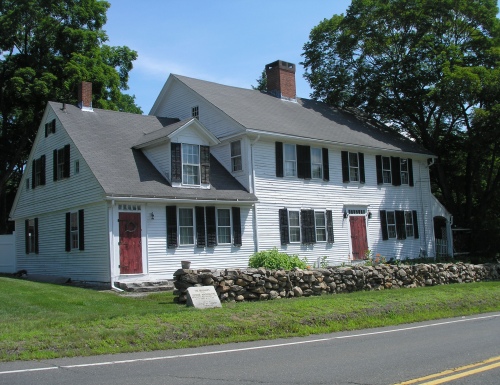 The precise date for the construction of Brigham's Tavern, at 12 Boston Turnpike in Coventry, is uncertain, but what is certain is that George Washington stopped here for breakfast on November 9, 1789. The full entry from Washington's Diary for that day reads as follows:
Set out about 7 o'clock, and for the first 24 miles had hilly, rocky, and disagreeable roads; the remaining 10 was level and good, but in places sandy. Arrived at Hartford a little before four. We passed through Mansfield, (which is a very hilly country, and the township in which they make the greatest qty. of silk of any in the State,) and breakfasted at one Brigham's, in Coventry. Stopped at Woodbridge's in Et. Hartford [now in Manchester], where the level land is entered upon, and from whence, through East Hartford, the country is pleasant, and the land in places very good; in others sandy and weak. I find by conversing with the farmers along this road, that a medium crop of wheat to the acre is about 15 bushels—of corn, 20—of oats, the same —and in their strong and fresh lands they get as much wheat as they can rye to the acre—but in warm or sandy land the latter yields most. They go more, however, upon grazing than either; and consequently beef, butter and cheese, with pork, are the articles which they carry to market.
The tavern served travelers from 1778 into the nineteenth century. Uriah Brigham, son of Elnathan Brigham, had acquired the property in 1753 from Mathias Marsh. He occupied what is now the rear section of the building, which may date to c. 1717. His son Gershom Brigham was the first tavern-keeper, constructing the tavern sometime before it was first licenced in 1778. The west section was also built around that time or a little later. The sections of the building have been much altered over the years.