Friday, May 24th, 2013 Posted in
Berlin
,
Colonial
,
Taverns & Inns
|
No Comments »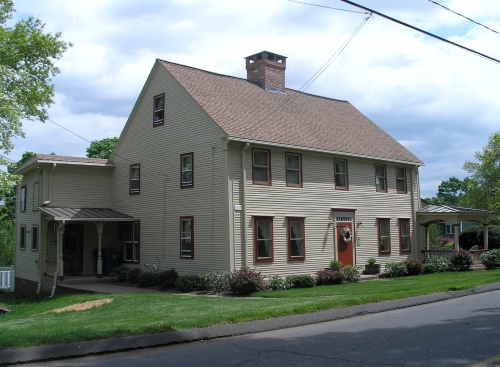 George Washington recorded in his diary on November 10, 1789:
Left Hartford about 7 o'clock, and took the middle road (instead of the one through Middletown, which I went).— Breakfasted at Worthington, in the township of Berlin, at the house of one Fuller.
The tavern that Washington writes about still stands today at 1055 Worthington Ridge in Berlin. It was built circa 1769 and has later nineteenth century alterations. Ephraim Fuller, listed in the 1790 census, was probably the Fuller who ran the tavern. Additional details about the tavern are recorded in Catharine M. North's History of Berlin (1916):
Some years since, when the house was repainted, the date 1769 was discovered on the brick work of the chimney, about half-way between the roof and the top of the chimney. It was built to be used as a tavern with a public hall and ballroom on the second floor. […] Amos Kirby assumed the proprietorship of Fuller's tavern about the year 1814, and lived on the place until his death in 1846 at the age of seventy-one. During the latter part of his years he carried on the business of a butcher and peddled meat about the town.
Around 1884, when wallpaper was being removed from the Tavern's east room on the second floor, a mural displaying Masonic symbols was uncovered. The room had once been part of the ballroom, which once ran across the entire house from east to west and was later converted into a Masonic Lodge room. It is thought to have been the meeting place of Berlin Lodge, No. 20, organized in 1791, which later became Harmony Lodge No. 20 of New Britain and merged with Friendship Lodge No. 33 of Southington in 1995.