Monday, February 1st, 2016 Posted in
Colonial
,
Houses
,
Old Saybrook
|
No Comments »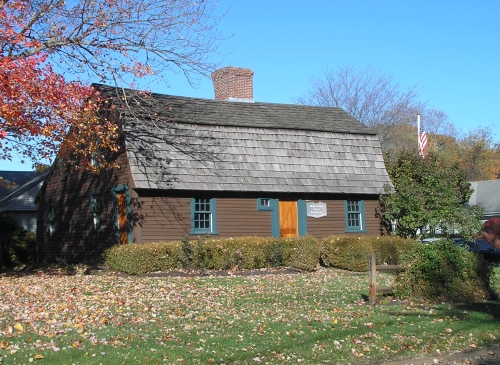 The sign on the Parker House at 680 Middlesex Turnpike in Old Saybrook gives it the date of 1646. The National Register of Historic Places nomination for the house gives a date of 1679. In either case, it is one of the oldest houses in Connecticut. It was built by William Parker (1645-1725). Born in Hartford, Parker settled in Saybrook. As described in Family Records: Parker-Pond-Peck (1892), by Edwin Pond Parker:
Dea. William Parker was a leading citizen, and very prominent in church and state. He is said to have represented Saybrook as Deputy to the General Court in more sessions than any other person, excepting only Robert Chapman. He was Sergeant in Train-band as early as 1672, and in 1678-9 the town voted him five acres of land for services "out of the town" in the Indian wars. He was elected Deacon before 1687, and probably continued in that office until his death. He was a lay member of the Saybrook Synod of 1705 that framed the "Saybrook Platform" for the churches of Connecticut.
The house descended in the same family into the 1960s. It is now a commercial property.