Tuesday, July 12th, 2016 Posted in
Colonial
,
Houses
,
Norwich
|
No Comments »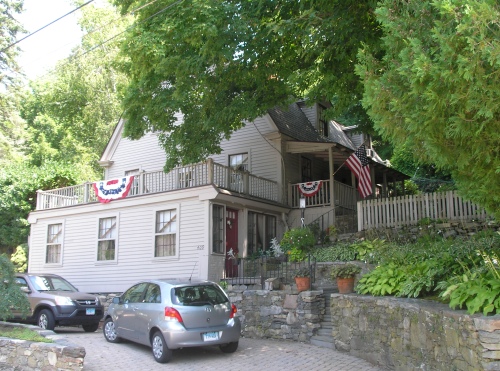 The house at 409 Washington Street in Norwich was once the site of Isaac Huntington's blacksmith shop. In 1722, James Norman acquired the property from Christopher Huntington and either converted the existing building into his residence or removed it and built a new one on the site. As related in Old Houses of the Antient Town of Norwich (1895) by Mary E. Perkins:
In 1714, the town grants to Isaac Huntington 4 rods of land (frontage 2 rods), "on ye side of ye hill to be taken up between Sergt. Israel Lathrop's orchard and Sergt. Thomas Adgate's cartway," and here he builds a shop, and in 1717 he receives a grant of land south of this "to build a house on," but he evidently prefers to buy his grandfather's homestead, when the opportunity offers, and the land and shop (frontage rods) are sold in 1722 by Christopher Huntington, who has become the owner, to James Norman. James Norman either alters the shop into a dwelling, or builds a new house, which seems to stand on the former site of the shop.

[. . . .]

Miss Caulkins mentions a James Norman, who, in 1715 was captain of a vessel engaged in the Barbadoes trade, and in 1717 was licensed to keep a tavern. This James Norman may be the one whose house we have just located, or possibly the latter was the son of the sea captain. He was in 1723 a "cloathiar." No record has been found of his marriage, or of the birth of children, but we know that a James Norman married after 1730 Mary (Rudd) Leffingwell, widow of Nathaniel Leffingwell, of whose estate he was the administrator. Mary (Leffingwell) Norman died in 1734. James Norman died in 1743, leaving a widow, Elizabeth, and three children, Caleb, Mary, and Joshua, the two latter choosing their brother Caleb for guardian. The heirs divide the property in 1753-4.