Sunday, January 14th, 2018 Posted in
Churches
,
Greek Revival
,
Mystic
,
Stonington
|
No Comments »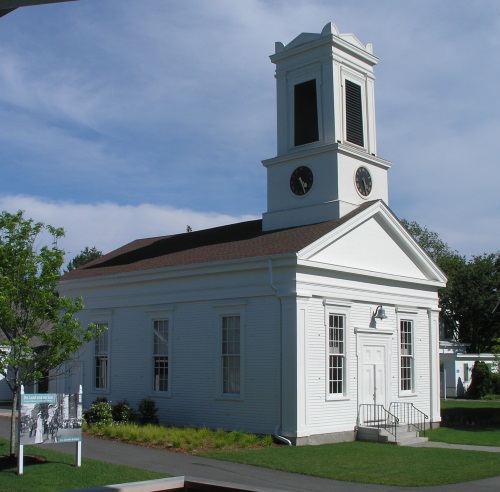 The Greenmanville Church at Mystic Seaport was built in 1851 during the area's heyday as a shipbuilding center. As related in Seventh Day Baptists in Europe and America, Vol. II (1910):
In 1838 three brothers, George, Clarke and Thomas S. Greenman, members of the First Hopkinton church, settled in Mystic, Conn., and commenced the ship-building business. Thirteen years later, 1849, they built a mill for the manufacture of woolen goods. About these industries sprang up a village called Greenmanville. The most of those working in the ship-yard were Sabbath-keepers, and being several miles removed from any Seventh-day Baptist church, it was deemed wise to organize one. This was done in August, 1850, with about forty members. The constituent members were mostly from the First Hopkinton church, a few from the Waterford church, and one from the Newport church. The largest membership, fifty-six, was reached the first year and it held pretty well up to this for thirty years. Its present (1902) number is eighteen.

Though it never enrolled a large number of members, yet it exercised a wide influence in denominational and other circles. George Greenman, a member of this church, was president of the Seventh-day Baptist Missionary Society for thirty-one years. The leading men of the church took an active part in the anti-slavery struggle, and the temperance cause has been supported by these godly men. Clarke Greenman, Thomas S. Greenman and Benjamin F. Langworthy served the town in the state legislature at different times.
The congregation was depleted with the decline of the shipyard in the 1870s and 1880s and the selling of the woolen mill to owners of another denomination. The church closed in 1904 and the building then served as a private residence and an apartment building before it was acquired by Mystic Seaport in 1955. The Seaport moved the church from its original site (near the current Visitor Center) to its present location. For a time, the church was called the Aloha Meetinghouse and was a nondenominational church. Mystic Seaport added the current tower clock, built in 1857 by the Howard Clock Company of Massachusetts. The clock is on loan from Yale, where it was once located in the Old South Sheffield Hall of the Sheffield Scientific School. Read the rest of this entry »