Sunday, March 29th, 2015 Posted in
Churches
,
Colonial Revival
,
Norwalk
|
No Comments »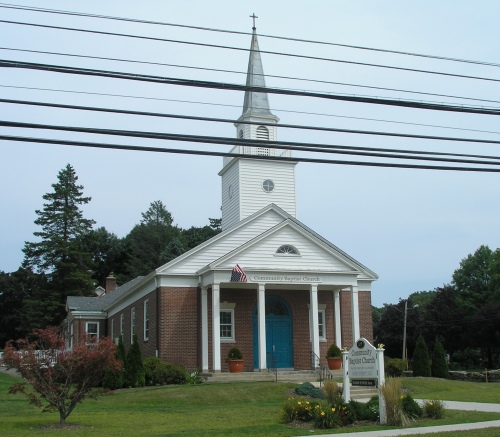 The Community Baptist Church in Norwalk began as the South Norwalk Baptist Church in 1859. As described in Norwalk After Two Hundred & Fifty Years (1901):
The church was organized on May 5th, 1859, at the residence of John L. Burbank, on South Main street. Mr. and Mrs. Burbank were deeply interested in their church, and their home was bequeathed by them for a Baptist parsonage, nearly forty years after the church was organized within its walls. [. . .] The Rev. L. D. Gowen was chosen pastor at this meeting and the first services were held in Smith's Hall, which is now Tilly's carriage factory, on May 22, 1859. [. . .] A temporary place of worship called the Baptist Tabernacle was completed shortly before Mr. Fagan's advent as pastor of the church [in 1861]. That building is now occupied by William Podmore, on North Main street, on the site of the present church edifice [built in 1885], on West avenue. [. . .]
The 1885 church building burned on February 2, 1936. Instead of rebuilding on the same West Avenue site, which had become a business area, parishioners decided to rebuild at 105 East Avenue and the church's name was changed from the South Norwalk Baptist Church to the Community Baptist Church. The cornerstone was laid April 11, 1937 and the first service was offered October 17, 1937.