Sunday, November 13th, 2016 Posted in
Churches
,
Italianate
,
Windham
|
No Comments »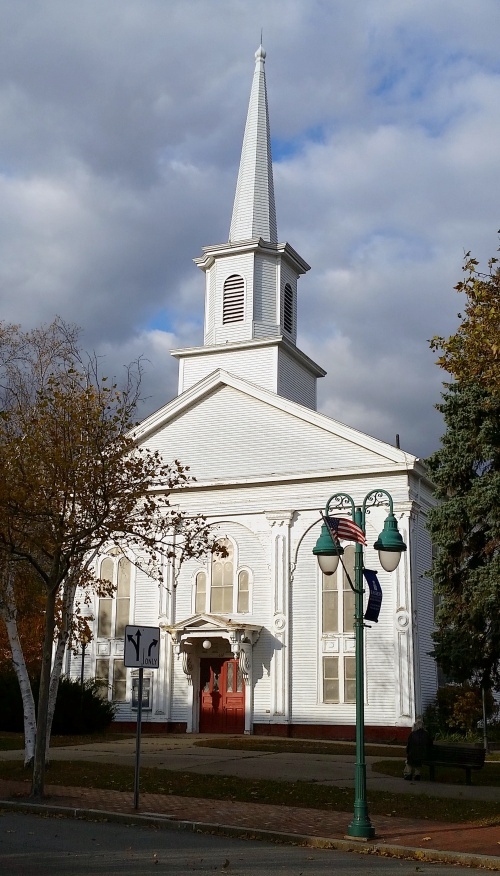 The First Baptist Church of Willimantic is located at 667 Main Street. As related in Bayles' History of Windham County, Connecticut (1889):
The church was organized October 20th, 1827. At first the school houses were used for meetings, but a spirit of opposition arose and they were debarred this privilege. With aid from abroad they succeeded in building a meeting house on the site at present occupied. The site was purchased of Alfred Howes, and Messrs. Reed, Hardin and Fenton, of Mansfield, were contracted with to erect the church. The building, being completed, was dedicated May 27th, 1829. A Sabbath school was immediately organized. [. . .] The church is a neat and commodious building, which, with the lot it stands upon, is valued at twenty-five thousand dollars. Connected with the church is a vigorous Young People's Society of Christian Endeavor and a large and flourishing Sunday school.
The 1827 edifice was replaced with the current church building in 1858. As related on the church's website:
In 1968, the First Baptist Church of Willimantic had an opportunity to sell its building after the Valentine's Day Fire destroyed the 1865 Union Block. The declining church voted not to sell and to remain a downtown church, which is where it still stands. In 2002, First Baptist voted not to close its doors and instead chose to celebrate its 175th anniversary.