Sunday, March 9th, 2014 Posted in
Churches
,
New London
,
Romanesque Revival
|
No Comments »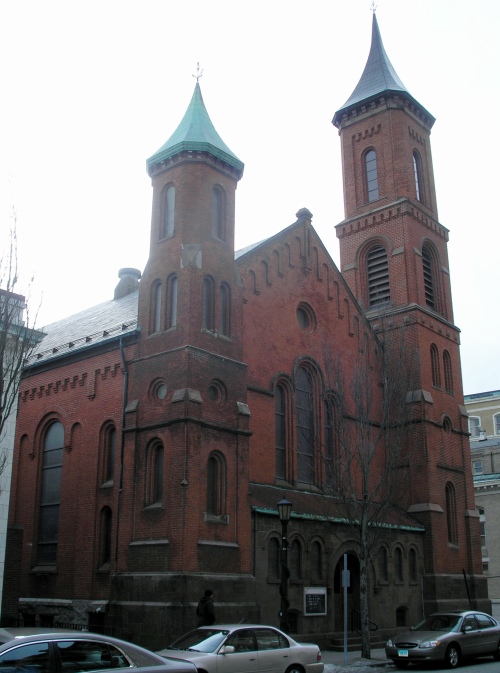 Baptists in New London first organized a church in 1710 and constructed a meetinghouse on Niles Hill, called the "pepperbox" because of its unusual hip-roofed shape. This church broke up in 1771, but a Baptist church was reformed in 1792, formally organizing in 1804 as the First Baptist Church. Local resistance thwarted their attempts to buy land for a new meeting house and the Baptists had to resort to subterfuge to acquire land at the corner of Union and Pearl Streets. As related in Frances Manwaring Caulkins' History of New London (1856):
The church which now bears the designation of the First Baptist Church of New London, was constituted in February, 1804, by a colony of about fifty members from the Waterford Baptist church, most of whom resided within the limits of New London. [ . . .] The position chosen for their house of worship, was a platform of rock, on a summit of the ledge that runs through the central part of the city. It was commenced in 1805, and was occupied nearly ten years in an unfinished state; the beams and rafters left naked, and with loose, rough planks for seats. The interior was then finished, and the whole edifice has since been enlarged and improved. [. . .] In 1847, under the ministry of Rev. Jabez S. Swan, the members of this church amounted to six hundred and twenty-five, probably the largest church ever known in New London county. It has since colonized and formed another church. The number of members reported in 1850, is four hundred and five.
This rapid growth of the First Baptist Church led to the need for a new church, which was built at the corner of State and Washington Streets in 1856. The Romanesque Revival edifice was designed by W.T. Hallett, who also designed such other New London buildings as the City Hall (original facade) and Lawrence Hall (since demolished), both also built in 1856. The interior was not completed until the 1880s and the church's stained glass windows were dedicated in 1892. The window on the State Street side was added in 1931.