Wednesday, February 17th, 2016 Posted in
Colonial
,
Farmington
,
Houses
|
1 Comment »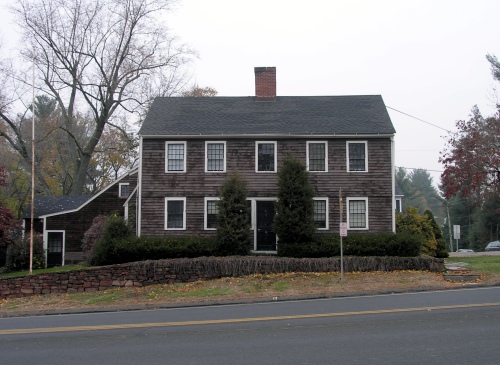 The building at 1 Waterville Road (AKA 820 Farmington Avenue) in Farmington contains sections of two much earlier houses. In 1807, Pomeroy Strong (1777-1861) purchased the land, which included the gambrel-roofed one-story Woodford House, built c. 1666 by Joseph Woodford Sr. Strong also acquired the Newell Homeasted, built some time earlier (perhaps as early as 1650) by Thomas Newell. Woodford and Newell were among the original 84 proprietors of the town of Farmington and in 1666 Woodford married Newell's daughter Rebecca. By 1807 the Farmington Canal was being constructed and its path went right through where the Newell House stood. Strong moved the house to the east and, attaching it to the south of the Woodford House. He remodeled the structure, adding a second story. At Strong's death his estate passed to his two daughters, Julia and Ellen Root Bartlett. In 1862 Ellen sold her interest to Julia and her husband, Dr. Chauncey Brown (1808-1879). He is described in Farmington, Connecticut, the Village of Beautiful Homes (1906):
Dr. Chauncey Brown was born in Canterbury, Conn. He went to Brown University for one year and then to Union College, whence he was graduated with honor. He was a student of Greek, reading the Greek Testament with great pleasure during the remainder of his life. From the medical school of Bowdoin he returned to Canterbury. In the last year and a half of the Civil War he was physician and surgeon in one of the hospitals of Washington. He came to Farmington about 1835 and in 1837 married Julia M. Strong. He was a strenuous believer in abstinence from alcoholic drink and also in anti-slavery when both beliefs were unpopular.
When the Amistad Committee arranged for the Amistad captives to stay in Farmington before returning to Africa, the girl named Temme was to be housed with the family of Horace Cowles. By the time she arrived at the Cowles residence on March 19, 1841, Horace Cowles had passed away and his widow soon moved to West Hartford. Temme then went to the house of Dr. Chauncey Brown, where she lived for most of her stay in Farmington. Dr. Brown's wife, Julia Strong Brown, described her experiences with Tamme in The Farmington Magazine in February 1901:
It was a most singular episode in the quiet life of Farmington which brought to us the band of Mendians in which were included three Mendian girls.

One of these, by name Tamie, was sent directly to and remained with me until their departure for their native land, and she proved a most interesting personality. About fourteen years of age, she was tall, straight as an arrow, and lithe as a willow, with a soft low voice and a sweet smile which so far as I remember, never developed into a laugh. Her nature was rather serious and yet she was uniformly cheerful.

[ . . .] she was fond of flowers and particularly enjoyed a little garden which she tended carefully. I remember her joy when I had been preparing pineapples, she asked for the green crowns to plant and was so delighted when they began to grow. Her perceptions were keen and her questions innumerable.
The house later passed to the Browns' son, Philip Brown, and then to his cousin, Eleanor Bartlett Phelps, who owned it until 1963. Since then it has been a commercial property. In 2011 the house was added to the town's blighted building list because the property had deteriorated and had a shabby appearance. In 2014 there were plans to tear down the rear section (the 1666 Woodford House), but these later fell through. The building is currently vacant and is still a threatened building.