Friday, June 20th, 2014 Posted in
Berlin
,
Federal Style
,
Houses
|
No Comments »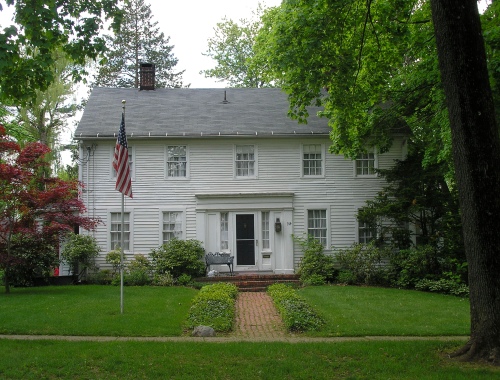 The house at 914 Worthington Ridge in Berlin was built around 1790 for Deacon Daniel Galpin (1754-1744), a veteran of the Revolutionary War. In her History of Berlin (1916), Catherine M. North quotes a letter of Mrs. Margaret Dunbar Stuart describing the Deacon:
Deacon Daniel Galpin was brother to Col. Joseph Galpin and lived next door to Parson Goodrich, my grandfather. He was of a more ardent temperament than Col. Galpin. He spoke in prayer meetings, and was a warm abolitionist.

In a wing of his house was a shop where he whittled logs into pumps. Also his daughter Mary utilized this shop for her dame school.

One day there was a sudden noise and my brother, a little boy saying his letters, was greatly pleased to find the Deacon had fallen over his pump log.

At one time Deacon Galpin put up a sign on his pump shop, "Anti-Slavery Books for sale here."

This subjected him to some persecution and it was torn down by the roughs of the village.
The house was moved to its current address in the late 1840s to make way for the building of the Congregational Church.