May 23rd, 2016 Posted in
Colonial
,
Farmington
,
Houses
|
No Comments »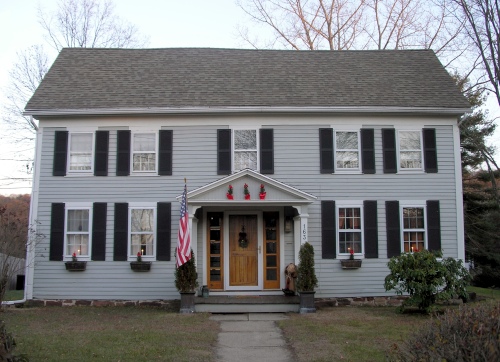 John Smith built the house at 163 Main Street in Farmington in 1742. He sold it to John Hart, but repurchased it from Hart in 1750-1751. It was then acquired by Dr. Elisha Lord in April 1751, who resided there until 1762. He served in the French and Indian War, as mentioned in Proceedings of the Connecticut Medical Society (1863):
Dr. Elisha Lord, son of Cyprian and Elizabeth (Backus) Lord, was born Aug. 10, 1726. He located first at Farmington, but subsequently returned to Norwich. After accompanying the troops sent against Crown Point, he was appointed, May, 1758, surgeon to the first regiment. In this capacity, and as director of hospital stores, he served till Dec. 22, 1760. He died at the age of forty-two.
Stephen Dorchester and Elizabeth Gould Dorchester lived in the house from 1762 to 1786. The house then passed through a succession of other owners. It was a property of the Wilcox family from 1845 to 1910. The Root family owned and leased the property between 1915 and 1963, at some point moving the house back from the street and converting it into a duplex.