November 22nd, 2015 Posted in
Churches
,
Federal Style
,
Guilford
|
No Comments »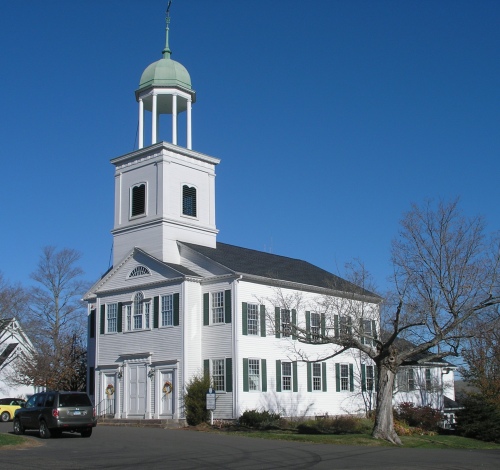 Guilford farmers began clearing land in the north part of town in 1705. As related in A History of the Plantation of Menunkatuck and of the Original Town of Guilford, Connecticut, Comprising the Present Towns of Guilford and Madison (1897) by Bernard Christian Steiner:
on December 6, 1716, the town voted to grant the petition of the "North Farmers in Guilford," that they may have "the liberty to hire a minister for 4 months for their ease in attending the worship of God, the Town being at no charge in contributing to the same."
In 1720 the town
granted 50 acres on Hooker's Hill "to be disposed for the ministry forever," and permitted the meetinghouse to be set" on the hill called the ledge, in the highway against Sam'l Bishop's lot."
The first meeting house on Mettinghouse Hill was built in 1723 and a separate religious society was granted by the General Assembly in 1725. The current North Guilford Congregational Church building was erected in 1812-1814. Workmen erecting the steeple during the War of 1812 observed British ships on Long Island Sound during the Battle of Stonington. Abraham Coan of Guilford was the architect/builder of the Federal-style church, which stands in a dramatic location on Meetinghouse Hill. The interior was remodeled and the Chancel was added in 1855, possibly to a design by Henry Austin. A rear addition to the church was constructed in 1957.