Towns
Alphabetical Listing of Towns
Towns with Building Indexes: Berlin, Branford, Bridgeport, Bristol, Cheshire, Durham, East Hampton, East Hartford, Enfield, Essex, Fairfield, Farmington, Glastonbury, Groton, Guilford, Haddam, Hartford, Litchfield, Manchester, Mansfield/Storrs, Meriden, Middletown, [Mystic], New Britain, New Haven, New London, Norwalk, Norwich, Old Saybrook, Southbury, South Windsor, Southington, Stonington, Suffield, Vernon/Rockville, Waterbury, West Hartford, Wethersfield, Windham/Willimantic, Windsor, Woodbury.
The following list links to individual town pages which have links to websites and online books for each community.
By County:
Hartford County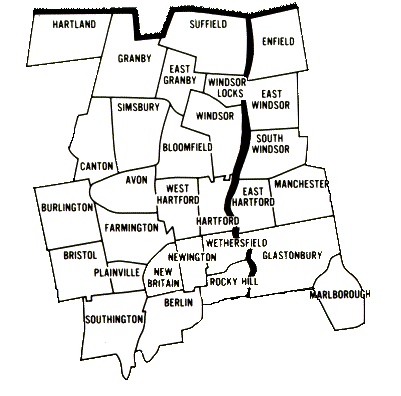 West of the Connecticut River (North): Hartland, Granby, East Granby, Suffield, Windsor, Windsor Locks, Bloomfield, Avon, Canton, Simsbury.
West of the Connecticut River (South): West Hartford, Farmington, Burlington, Southington, Bristol, Plainville, New Britain, Berlin, Newington, Wethersfield, Rocky Hill.
East of the Connecticut River: Enfield, East Windsor, South Windsor, East Hartford, Manchester, Glastonbury, Marlborough.
New Haven County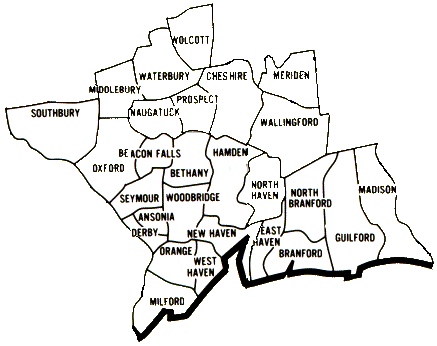 East of New Haven: East Haven, North Haven, Branford, North Branford, Guilford, Madison.
North, West and South of New Haven: Hamden, Bethany, Woodbridge, Orange, West Haven, Milford.
Waterbury and Northern New Haven County: Waterbury, Wolcott, Middlebury, Southbury, Naugatuck, Prospect, Cheshire, Wallingford, Meriden.
Lower Naugatuck River Valley: Oxford, Beacon Falls, Seymour, Ansonia, Derby.
Middlesex County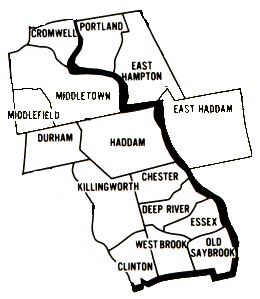 North: Middletown, Middlefield, Cromwell, Portland, East Hampton, Durham, Haddam, East Haddam.
South: Killingworth, Chester, Deep River, Essex, Old Saybrook, Westbrook, Clinton.
New London County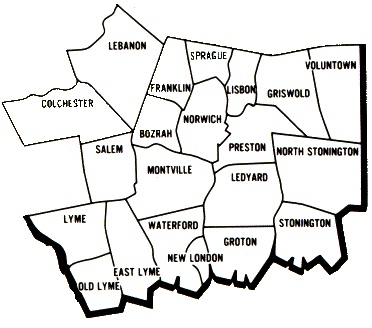 South: New London, Waterford, Groton, [Mystic], Stonington, North Stonington, Lyme, Old Lyme, East Lyme, Montville, Ledyard.
North: Norwich, Bozrah, Franklin, Sprague, Lisbon, Preston, Griswold, Voluntown, Salem, Colchester, Lebanon.
Tolland County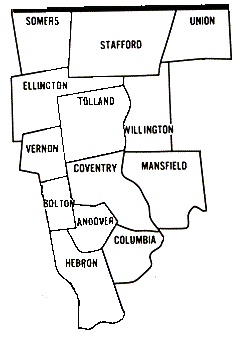 South: Bolton, Hebron, Andover, Columbia, Coventry, Mansfield.
North: Vernon/Rockville, Ellington, Tolland, Willington, Somers, Stafford, Union.