January 1st, 2012 Posted in
Banks
,
Bridgeport
,
Neoclassical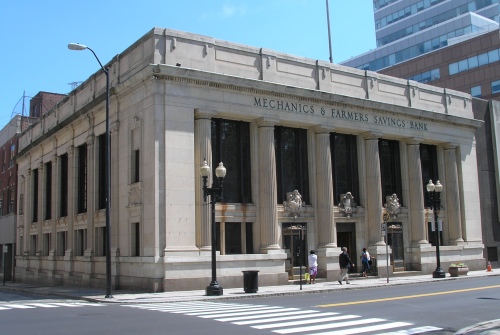 Happy New Year from Historic Buildings of Connecticut!!! According to Vol. I of Waldo's History of Bridgeport and Vicinity (1917), the Mechanics and Farmers Savings Bank of Bridgeport
received its charter in 1871, but was not officially organized until July, 1873, when the incorporators held their first meeting and elected a board of trustees; George W. Hayes, president; Andrew Burke and George Lewis, vice presidents; and Lyman S. Catlin, secretary and treasurer. It was started as an East Bridgeport bank and was located on West Washington Avenue, near East Main Street. From there the bank was moved to the basement of the Connecticut Bank Building, corner of Main and Wall streets, then to the Barnum Building, 407 Main Street, then to the City Bank Building, Wall Street, and finally to the new and attractive structure at 930 Main Street.
In 1930, the Bank constructed a new building, designed by Ernest G. Southey, in front of an earlier brick-faced building. Mechanics & Farmers Savings Bank failed in 1991 and the building has been vacant for many years. The Beaux Arts structure, which was owned for several years by the City of Bridgeport, was used in 2007 as a location for the film Righteous Kill, during which their was a minor fire in the bank's lobby. Fletcher-Thompson Inc., an engineering and design firm that moved out of Bridgeport in 2002, plans to return to the city, renovating and moving into the former bank building by 2014.