November 20th, 2011 Posted in
Churches
,
Gothic
,
Hebron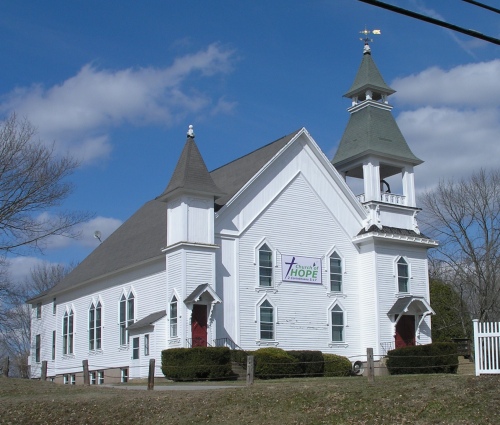 Hebron was incorporated as a town in 1708. The community's religious services were held in private homes before a meeting house was constructed. There was intense debate in 1716 concerning where to built it, either north of the center village or on the Green. Eventually, a site on the Green was selected. The building was soon erected, although it was not fully finished in 1723-1724. Agitation developed over the formation of separate parishes and in 1747 the Connecticut General Court removed sections of Hebron to become parts of two new towns: the northeastern section becoming part of Andover and the western section part of Marlborough. The northwest corner of town remained part of Hebron, but was set off as a distinct ecclesiastical society, called now the Gilead Congregational Church, which held its first meeting in 1748. F. Clarence Bissell has related (in an address for Hebron's Bicentennial in 1908):
Returning again to the situation of the town about the time that it was divided into religious societies; the first meeting house was in a ruinous condition, and there was much difference of opinion as to the location of a new one. But the necessity for a new one was emphasized by the burning of the old. This occurred Oct. 8, 1747 and was caused by an incendiary hired for that purpose, a half witted young man, who was afterwards prosecuted and committed to jail for the crime. During the year in which the old meeting house was burned there were held ten society meetings regarding a new one. It was finally voted to build a new house 60 feet by 48 feet and 25 foot posts, on the place where the old house stood. The new house was built in 1748 arid it contained some timbers that were already hewed for the addition for the first house, and saved from the fire. Some of these same timbers were afterwards used in building the new church in 1828, the building which many of us remember as standing until the fire of 1882.
That fire was described by Cyrus H. Pendleton (again at the Bicentennial):
April 17, 1882, a fire broke out upon the roof of a building, the lower story of which was occupied by Lucien H. Leonard as a store, his family residing in the story above. The fire started from sparks from the chimney. This building, known as the Hendee Store, stood just west of the Congregational Church, and with it was burned, the church and four other buildings on the north side of the Green, and the schoolhouse and two other buildings on the south side. The church and schoolhouse were rebuilt the same year, and two of the dwellings soon after.
The current First Congregational Church building was dedicated on May 1, 1883.