June 22nd, 2011 Posted in
Houses
,
Italianate
,
Norwich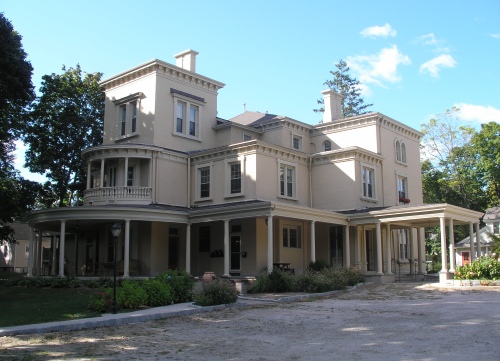 Pinehurst is an Italianate villa at 154 Washington Street in Norwich. Described as "one of the most picturesque places in Norwich," it was built around 1860 for Joshua Newton Perkins. According to A Modern History of New London County, Vol. II (1922):
A New York architect, Mr. Gervase Wheeler, and his associate, William T. Hallett, erected the brick house where it now stands. The house was large and commodious, and its position afforded a fine view of the valley and cove. It resembled the Italian villas on the shores of the lakes. A photograph taken in 1866 shows the simplicity and beauty of the plan; the "Newton Perkins Place" was one of the show places of the city.

Mr. Perkins was one of the prominent men of Norwich, active in the advancement of its educational and industrial interests. After a period of some twenty years, business affairs took him to New York, and the house passed into the possession of Robert Bayard of New York. The Bayards did not occupy the house, which was in charge of a caretaker till it was purchased by Mrs. Edward Gibbs, who made many alterations and additions, among them the wide verandas; the "Newton Perkins Place" was merged into "Pinehurst," its present name.

[…] By an odd coincidence, New York again proved a magnet, and the Gibbs family went to that city to reside. The house again was uninhabited, till 1904, when Frank Allyn Roath, a descendant of Robert Allyn, one of the original proprietors of Norwich, became the owner; Mr. Roath enjoyed his beautiful home but a few short years. He left it to his wife, Gertrude Hakes Roath, who is much interested in horticulture, and a true lover of nature. Under her supervision the grounds show the effects of the renewed care, and many wild flowers are finding homes in congenial soil.
On the verandas of Pinehurst, author Paul Leicester Ford worked on his novel, The Honorable Peter Stirling and What People Thought of Him (1894). Pinehurst was designed to resemble the homes of rural Italy, which have rambling wings added to over generations. Today, the house is the Pinehurst Apartments.