June 25th, 2008 Posted in
Colonial
,
Columbia
,
Greek Revival
,
Schools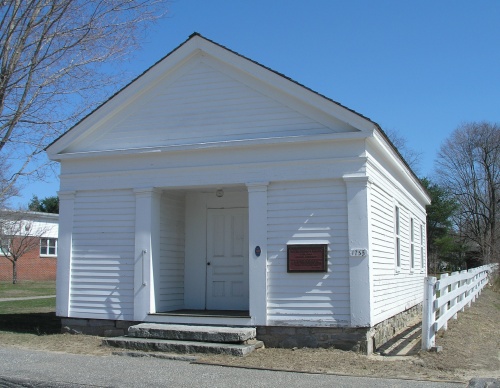 "One hundred years ago, a man of worth,
With a big heart–Old Windham gave him birth–
Started in Lebanon–Columbia now the name–
A little school the forest sons to tame:"
So run four lines from
a poem
by
Dr. O.B. Lyman
in honor of
Rev. Eleazar Wheelock
, the founder of
Dartmouth College
in Hanover, New Hampshire. The origins of that college began in 1754 in a part of Lebanon which is now the town of Columbia.
Rev. Wheelock
, an important minister of the
Great Awakening
, founded a school called
Moor's Charity School
, which was dedicated to providing a
Christian education
for
Native American Indians
who might serve as missionaries to the Indian tribes. A 1755 school building, used by Wheelock, survives in the town of Lebanon today, although it was
later altered in the Greek Revival style
. Eventually, as
Wheelock
was having difficulties recruiting Indian students due to the school's distance from tribal lands and as he also wished to expand his school to include a college for whites, he decided to move the institution. In 1770, the move to New Hampshire was completed, a year after receiving a royal charter, the
last to found a college in Colonial America
before the Revolution. For this reason, the Moor's Charity School in Lebanon was described, in a
1969 plaque placed on the side of the building
, as "
Proudly remembered for two hundred years by generations of Dartmouth men as seeding ground of Dartmouth College and faithful steward of Eleazar Wheelock's generous and crusading spirit.
"