June 1st, 2011 Posted in
Houses
,
Stick Style
,
Tolland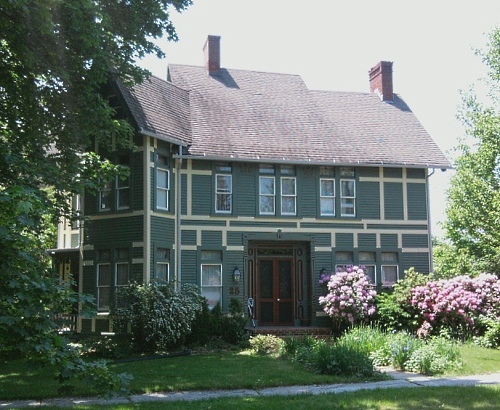 The section on Tolland in A History of New England, Vol. I, (1880), explains that:
The business of tanning and currying leather had been carried on near the village for many years before 1840. About that time Mr. Moses Underwood purchased this property and continued the business successfully for several years, when he and one of his sons [Henry Underwood] engaged in manufacturing belts in connection with the business of tanning leather. The Underwood Belting Company, formed in 1875, have increased this business and have erected more commodious and extensive buildings, furnished with expensive machinery. This is the only manufacturing business now carried on in Tolland.
Frank Underwood, son of Henry, built his house at 25 Tolland Green in Tolland in 1873. Five years later, he constructed a factory behind his house, from which steam was piped to heat his residence. The factory burned in 1897, but the house survives and is notable for being the work of the architects Palliser and Palliser. The design of the house was featured in Palliser's Model Homes (1883), where the house is described as follows:
This country residence embraces many novel and good features of exterior variety and interior compactness and convenience. The workmanship and materials throughout have been of the best description, the materials being purchased by the owner and the work done by the day, and no pains have been spared to make it first-class in every respect.

The interior arrangement is very complete and unique, the Hall being finished in Oak, Parlor in Maple, Library and Dining-room in Ash, all the fire-places having hard wood mantels of handsome design. The conservatory is a pleasing feature of the first floor plan, and is accessible from the Dining-room through a casement window; access is also obtained in a like manner to porch in rear of Dining-room. A clothes-shute is arranged from second floor to soiled clothes-closet in Laundry, an arrangement that is appreciated by every housekeeper.

Stained glass is used in all the windows above transoms. Roofs are slated and ridges covered with red terra-cotta cresting. The interior wood-work is filled with Crockett's Preservative. The heating is done by indirect radiation, steam being brought into cellar from the Underwood Belting Company's Factory. Cost about $4,500.00.