May 6th, 2011 Posted in
Greek Revival
,
Houses
,
Litchfield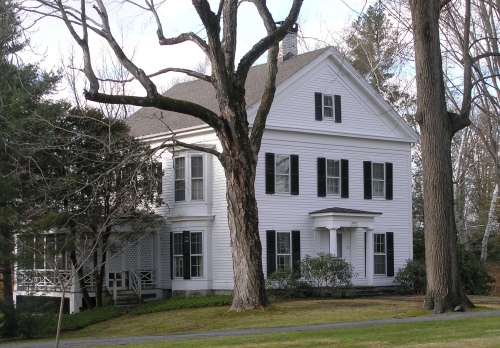 A house at 118 South Street in Litchfield was built for Rev. Dan Huntington, who served as a minister in town from 1798 to 1809. As related in Memoir and Letters of Frederic Dan Huntington (1906), by Arria S. Huntington.
In his "Family Memorial," written as an octogenarian, Rev. Dan Huntington says that at this time he was much attracted by the current setting towards what was then called "the West," the Connecticut reserve lands in Ohio. But the place of assistant minister at Litchfield, Rev. Mr. Champion having become disabled, was offered to him. He accepted, and was ordained to the work of the ministry in September, 1798. This "delightful village" was, as he himself describes it, "on a fruitful hill, richly endowed with schools, both professional and scientific, and their accomplished teachers; with its learned lawyers, and senators, and representatives, both in the National and State departments; and with a population enlightened and respectable. Litchfield was now in its glory. I came among them without patrimony; but with their assistance, in a handsome settlement, I soon found myself in a way to be comfortably at home among them, with a neat domicile of my own."
Rev. Huntington later moved to Middletown, but in 1816 he gave up the ministry and moved his large family to his wife Elizabeth Phelps' homestead in Hadley, Massachusetts. His former Litchfield domicile was later burned (perhaps not completely) and rebuilt in 1862, as mentioned in Alice T. Bulkeley's Historic Litchfield (1907):
On the site of the Andrews place, a female seminary was established by Miss Henrietta Jones, a descendant of Governor Jones of the New Haven colony. This lady was celebrated for her wit and the energy of her character. The house was burned and the Andrews house built on the site. Judge Charles B. Andrews, the owner of the house until his death, was Governor of the State, and later Chief Justice. He is the only citizen in the history of Connecticut who held the two highest offices in the gift of the State.