June 7th, 2008 Posted in
Colonial
,
Houses
,
Woodbury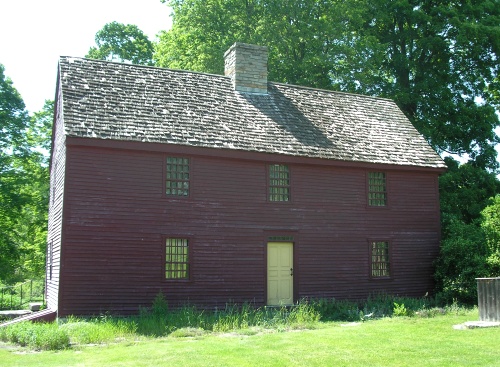 The Hurd House in Woodbury is a combination of what were originally two smaller houses. The older, north section, dates to around 1680 and was the home of John Hurd, who became the town's miller in 1681. The south section, which may have originally been the home of Hurd's son, was added to the older structure in 1718, to increase the overall size of the house. The two original houses were of the end-chimney type, while the structure resulting from the combination has a central chimney. By 1779, a lean-to was added, making the house a saltbox, although this was later removed. In 1967, the house was acquired by the Old Woodbury Historical Society.
A new feature is being launched today at Historic Buildings of Connecticut. I plan to do a series of articles discussing some of the different architectural styles found in Connecticut. I will be using buildings which have appeared on this site as examples, sometimes with different photos than those which have appeared here before. The first of these articles is on Colonial Houses, which can be found at the url address:
http://historicbuildingsct.com/?page_id=502. This and later articles to come will be indexed on the Architecture page (also listed in the bar above the site banner), so please check there for future additions!