September 5th, 2010 Posted in
Churches
,
Derby
,
Romanesque Revival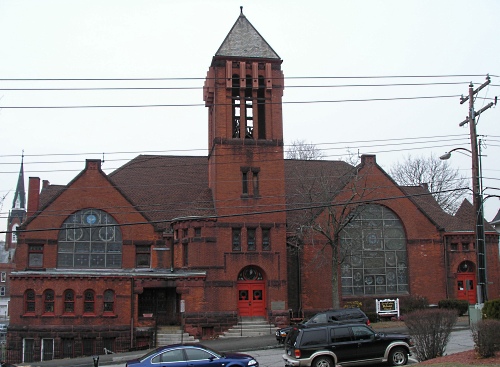 The first Methodist Episcopal society in Derby was organized in 1793. In the early years, the members did not have their own building. According to The History of the Old Town of Derby (1880), "The ministers preached wherever they found open doors." This included private homes, taverns and a schoolhouse. Again quoting from the History:
For a long time the society continued small and encountered much prejudice and some persecution. On one occasion, while a meeting was held in the house of Isaac Baldwin, which stood on the flat east of H. B. Beecher's auger factory, the persecutors went up a ladder and stopped the top of the chimney in the time of preaching, so that the smoke drove the people out of the house. Squibs of powder were often thrown into the fire in time of worship, to the great annoyance of the people.
The Methodists constructed a church on Birmingham Green in 1837. This church continued in use until funds were raised at a tent revival in 1891 to build a new church. The current Derby United Methodist Church, built in the Romanesque style, was completed in 1894 on the site of the earlier church.