May 11th, 2010 Posted in
Libraries
,
Montville
,
Romanesque Revival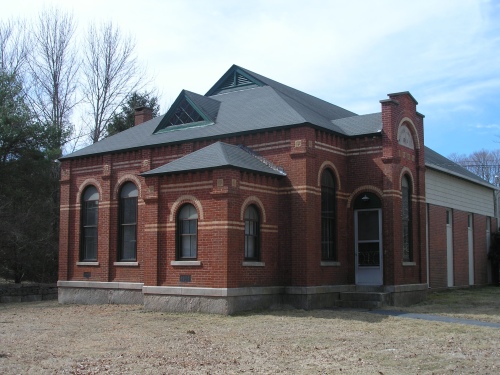 When Albert C. Raymond of Montville and East Hartford died in 1880, he left $10,000 in trust for the establishment of a library in Montville. A library had existed in Montville Center as early as 1823: the Union Library, a private institution located in an old store on the site of the present Congregational Church. As described in Henry A. Baker's History of Montville (1896),
After the death of Mrs. Raymond, 16 Sept., 1883, the sum donated for the founding of the Raymond Library was received from the executors of the estate of Albert C. Raymond by the Raymond Library Company, who immediately caused a library building to be erected at a cost of two thousand dollars. The building was a beautiful brick structure, built under a contract by Mr. Robert Turner of Norwich, and completed in the winter of 1884-5. At the annual meeting of the Raymond Library Company, held October 14, 1885, the library building was formally opened to the public; a bountiful collation was prepared by the ladies of the town, which was partaken of and heartily appreciated by all the persons who gathered at the chapel of the Congregational church at Montville Center on the occasion.
The Raymond Library has since been expanded with some very obvious modern additions.