April 15th, 2010 Posted in
Colonial
,
Farmington
,
Houses
,
Taverns & Inns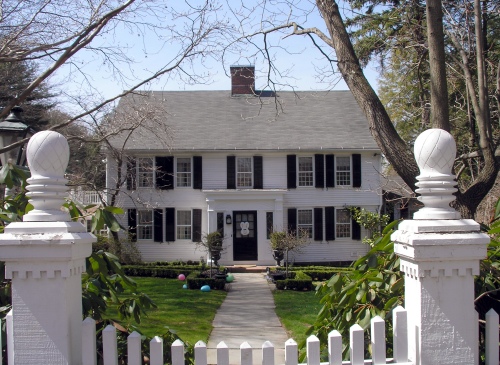 Maj. Peter Curtis was a blacksmith in Farmington who served as an officer in the army at every battle in which George Washington commanded during the Revolutionary War. In 1769 he had purchased the property formerly owned by Thomas Norton, replacing the earlier house, at the corner of Farmington Avenue and High Street, with his new house, built by Judah Woodruff in 1786. Curtis later served as the first keeper, or warden, of Newgate Prison in East Granby, from 1790 to 1796. His family occupied the house until 1822, when it was sold to William Whitman, who opened it as a tavern, with a ballroom on the second floor. After his death in 1876, the tavern was run by his son Charles L. Whitman, of whom it was said, as related in Farmington, Connecticut, the Village of Beautiful Homes (1906),
He and his father for many years kept a tavern in Farmington. in the days when there was much teaming through this town. The place was famous in all the region, partly on account of Mrs. Whitman's excellent pies and cake. When one's ancestors have been among those who serve the public with care and courtesy, it seems to become second nature in the descendants to be very polite. This might explain Mr. Whitman's genial manners, but I am inclined to believe it was more a special goodness of heart. He was also for many years one of the directors of the bank and an appraiser.
In the 1920s, rooms in the house were rented to two women for use as a tea room and antiques business. In 1938, the house was acquired by Dr. Walls Bunnell, who moved it to its present location at 4 High Street. Where the Whitman Tavern had originally stood, Dr. Bunnell created the shopping complex known as Brick Walk Lane, composed of various historic Farmington buildings he preserved by having them moved to the site.