January 4th, 2018 Posted in
Colonial Revival
,
Monuments
,
North Haven
,
Public Buildings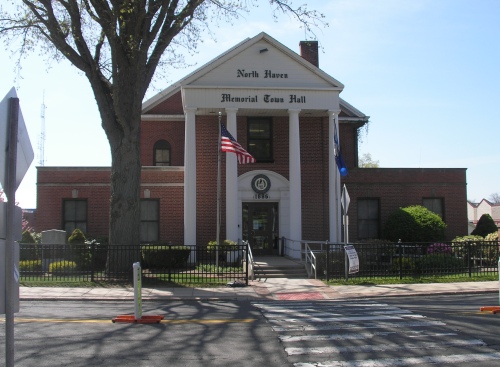 Like Memorial Hall in Windsor Locks, the town of North Haven chose to honor its men who died in the Civil War with a functional building, instead of a traditional stone monument. Veterans had formed an association in 1885 to erect a monument and money was appropriated for the purpose in a town meeting, but a later meeting reversed this, as public opinion favored erecting a memorial building instead. As related in North Haven Annals (1892), by Sheldon B. Thorpe:
A lot was purchased from the Cowles estate, plans for a building adopted, and ground broken May 10, 1886. It had been voted by the town the year previous to celebrate the one hundredth anniversary of its incorporation the next October, and hence the appropriateness of dedicating the new hall at the same time.

The contract for erection was awarded to Solomon F. Linsley. The work was driven forward during the summer with all possible speed, but as early as October it was foreseen the building could not be completed in season for the Centennial ceremonies. Attention was then turned to finishing such portions of it as would be most needed on that occasion. A popular concert to be given as the inauguration of the joyful occasion, seemed to call especially for hall privileges, and consequently the upper floor was completed first
The completed building was severely criticized for inadequately referencing its memorial purpose. Thorpe, quoted above, wrote that
As the building progressed it became more and more apparent that its chief promotors [sic] sought more a public edifice than a soldiers' memorial, and the sequel abundantly proved it. No provision whatever was made for an assembling place or headquarters for the veterans, and for some three years after its completion the latter body was required to pay rent for holding its meetings in it.
When constructed, the front of the building featured the words "1886 Memorial Hall." Thorpe felt that
To the stranger such is an indefinite inscription. So many memorial structures are erected from other than patriotic motives in this day, that the lack of specific statement, either by word or device, makes this pile valueless as an object lesson. Furthermore, even within its doors no emblem to denote its character is seen until a small marble tablet, six feet by three, set in the vestibule on the second floor is pointed out as containing the names of those who died in service during the Rebellion.
The veterans persisted in their efforts to erect a monument, and one was finally dedicated in 1905. Memorial Town Hall has continued in use, but has a completely different appearance from what was built in 1886. It was an eclectic Renaissance Revival/Neoclassical structure, designed by local builder-architect Solomon Fowler Linsley (1830-1901). With brick provided by I. L. Stiles & Son, a local company, it showcased the thriving brick industry of North Haven, which was then at its peak. The building's current Colonial Revival look dates to a 1949 renovation. Memorial Town Hall also housed the Bradley Library, which became the North Haven Memorial Library in 1907 and moved to its own building in 1938.