December 25th, 2017 Posted in
Canton
,
Houses
,
Vernacular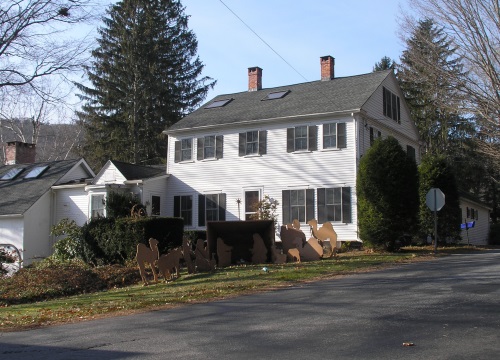 Merry Christmas from Historic Buildings of Connecticut!
The house pictured above, with a silhouette nativity scene in front, is located at 100 Barbourtown Road in Canton. It was built in 1821 as a story and a half house by Uriah Hosford, who raised it to two full stories in 1850. Hosford was a deacon of the First Congregational Church in Canton Center. The house was later owned by Deacon Archibald Mills, a Civil War veteran and farmer, who had an apple orchard and grew broadleaf tobacco and hay. In 1891, Mills removed the house's large stone chimney and fireplaces. In 1902, he added onto the house a photographic studio for his son, Lewis. The studio later became a kitchen after another son, Irwin, married Bertha Hosford. Irwin Mills grew Canton's last tobacco crop c. 1946-1947.
Lewis Sprague Mills (1874-1965) was an educator with a lifelong interest in photography. Lame in the left leg after an injury at the age of three, Lewis wore a steel brace for the rest of his life, but still labored for his father as a full-time field hand. He later used photography to support himself through school at Columbia University, where he earned a bachelor's degree in education in 1908 and master's degree in school administration in 1912. Lewis S. Mills worked as a teacher and then as a school supervisor in Burlington and Harwinton, while also continuing to be an avid photographer of local scenes. He is particularly known for his collection of over 500 photographs of Connecticut school houses. After retiring he edited The Lure of the Litchfield Hills magazine and wrote The Story of Connecticut (1932). Lewis S. Mills High School, which serves Burlington and Harwinton, is named for him.