December 24th, 2017 Posted in
Churches
,
Greek Revival
,
New Hartford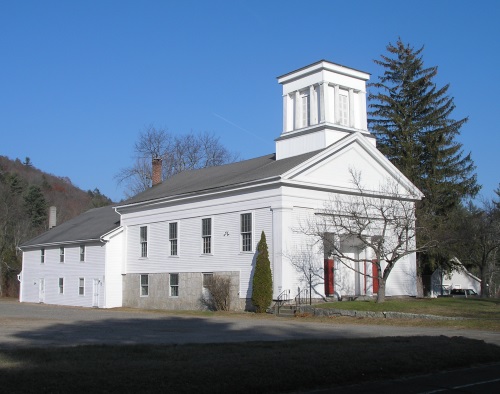 The original Congregational Church in New Hartford stood in the Town Hill Section. Built in 1739-1749, it was replaced by a new church in 1829. Residents in the north and south sections of town wanted churches located closer to where they lived and eventually formed their own Congregational societies. The North Congregational Church was built in 1828. A South Congregational Society was formed in 1846 in Nepaug, which was then the center of town. The church edifice, called the Nepaug Congregational Church, was built in 1848. As described in the History of Litchfield County (1881):
Much dissatisfaction with the location of the new Town Hill church was felt by the members resident at South End, who naturally wished to have it placed midway between the two settlements, waiving all attachment for the old site. This discontent gradually increased until, in 1848, the South Congregational Church of New Hartford was organized and the present church edifice built at Nepaug.
The same book describes the church building as follows:
The church edifice is of wood, with a tower and bell. It has a basement containing a lecture-room, where town-meetings have been held on
alternate years. During the year 1880 about six hundred dollars were expended on the building, which is now in thorough repair.
Now called the Nepaug Bible Church, it is located at 780 Litchfield Turnpike (Route 202). The steeple was originally twice as high.