December 6th, 2017 Posted in
Renaissance Revival
,
Schools
,
Windham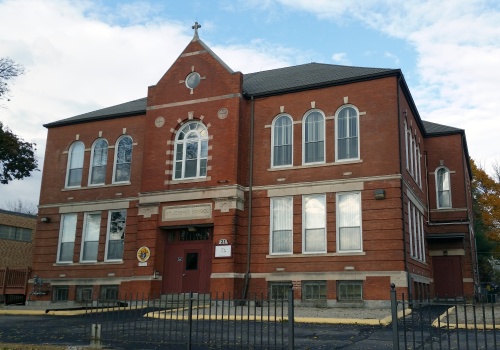 The building at 21 Valley Street in Willimantic was built in 1907 as a school by St. Joseph Catholic Parish. As described in A Modern History of Windham County, Connecticut, Vol. I (1920)
The school was established by the late [Rev.] Florimond DeBruycker, and he was the first principal, taking a constant and devoted interest in the work, from the beginning in 1878 until his death in 1902.

The first school sessions were held in April, 1878, with six Sisters of Charity of Tilburg, Holland, in charge. Sessions were held in the basement of the church for the boys and in the convent (now the Nurses' Home) for the girls. The number of children increased so rapidly that another building was erected two years later on Valley Street, which remained in use until torn down in 1907 to make room for a more pretentious structure.
Today, St. Mary-St. Joseph School is located next door, at 35 Valley Street. The former St. Joseph School building has most recently been used as an adult education center.