November 20th, 2017 Posted in
Federal Style
,
Guilford
,
Schools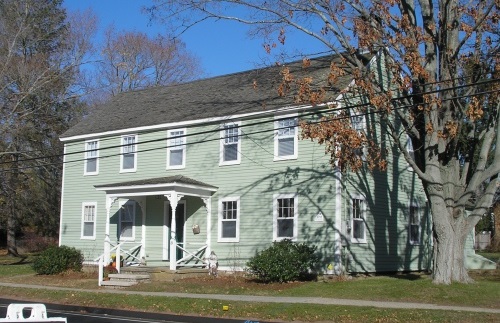 For sixty years the First and Fourth Congregational Societies in Guilford each maintained their own schoolhouse, located next to each other on the Green. These were then combined into one building of two stories, erected in 1794. The building was moved from the Green to its current location, at 19 Church Street, in 1827. It then housed a secondary school, called the Guilford Academy (aka high school), on the upper floor. As related in A History of the Plantation of Menunkatuck and of the Original town of Guilford, Connecticut (1897), by Bernard Christian Steiner:
In 1837 the [town's center school] district was divided into four parts and school houses built in the northeast and southwest districts, the northwest district occupying a part of the academy, the upper part of which building was occupied in 1838 by Mr. Dudley as a high school.
The academy closed in 1856, after the Guilford Institute (which would later become the high school) opened. The former Academy building then became a private residence. The front porch was most likely added around that time.