November 19th, 2017 Posted in
Churches
,
Gothic
,
Trumbull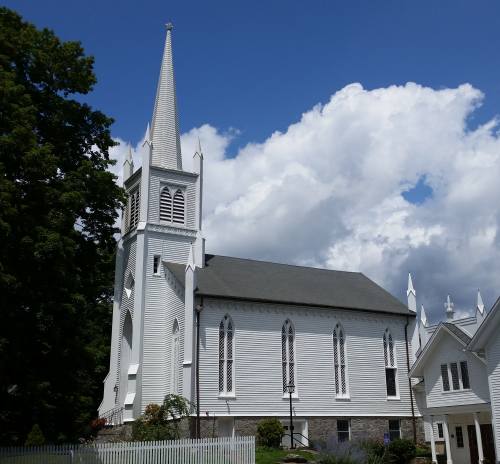 Christ Church, the Episcopal parish in the Tashua area of Trumbull, was organized about 1760, by which time the residents had built a small wooden church. The parish began as a mission of Christ Church in Statford, the oldest Episcopal parish in Connecticut. In 1788, the parish voted to build a new church by subscription. As described in Vol. 2 of Samuel Orcutt's A History of the Old Town of Stratford and the City Bridgeport (1886), the church was proportioned
not to exceed 50 feet in length, and 34 in breadth, and 24 in height. Also to be 24 windows in said church, of six-by-eight glass, thirty panes in each window, exclusive of the arch. This edifice was located, apparently, on the north side of the highway, where it remained until the present one was erected. The same year it was voted to call the parish Trinity Church, and by that name it was known in the records for many years. In June, 1790, the church was so far advanced that by vote of the parish the pew spots were sold at public veendue, the buyers being obligated to pay the prices bid and build the pews in one year from the time of purchase. The pews were to be in uniform style, as they were in the North Fairfield meeting house. The purchase money was applied towards the expense of building the church. The pew spots, except two, were sold for $310.66. The square pews were sixteen in number, being the wall pews round the building. The chancel was on the north side, and there was a door in the opposite side and one also at the east and west ends. In the body of church there were long, open seats free to all. A tower and spire were built at the west entrance in 1823.
The erection of the current church was begun in 1846 and the building was consecrated on May 28, 1847. While there have been additions, the church remains an excellent and very well preserved example of the Carpenter Gothic style.