August 31st, 2017 Posted in
Federal Style
,
Haddam
,
Houses
,
Taverns & Inns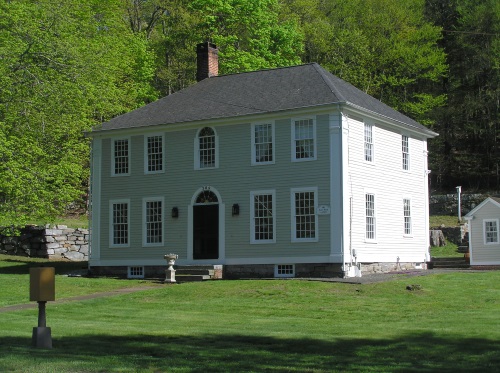 The house at 389 Saybrook Road in Haddam, across from the road leading to Higganum Landing, was operated as a tavern during the area's heyday as a river port and shipbuilding center. The house was built between 1799 and 1802, the year the Middlesex Turnpike opened. It was erected by Dr. Levi Ward (1771-1861), who soon left Connecticut, as related in Fifty Puritan Ancestors (1902), by Elizabeth Todd Nash:
Levi Ward, Jr., son of Levi and Mary Meigs Ward, born July 29, 1771, graduated at Yale College, studied medicine under Dr. Jonathan Todd, and took his M.D.; married Mehitable Hand, youngest daughter of Capt. Daniel Hand.

. . . .

In 1807 Levi Ward, Sr., John Ward and Levi Ward, M.D., went to the "Genesee Country" [in New York State] to settle. Bergen was then in the wilderness and Indians, bears, wolves, deer, were the neighbors of the little company from Haddam. Dr. Ward was the only physician in that locality, and he was sent for from distant settlements, entailing long wearisome journeys through the forests.
In 1817, from his new home in Bergen, Dr. Ward sold the tavern in Connecticut to George Smith. It was acquired by Cornelius Brainerd (1811-1884) in 1849. As described in The genealogy of the Brainerd-Brainard family in America, 1649-1908, Vol. II (1908), by Lucy Abigail Brainard:
In his earlier years he was a manufacturer of clocks. He was commissioner on roads and ferries in 1868, and commissioner to the Superior Court about 22 years. He was collector in the Second Congressional District in 1864 and the four years following. He was several years justice of the peace and selectman. He was nominated to the Whig State Convention Dec. 23, 1848. He was a committee to procure recruits in the late Civil War. He was county commissioner in 1855 and '56. He represented the Nineteenth District in 1867 and '68 in the Connecticut Senate, and was chairman of the committee on agriculture, on contested elections and on education. He introduced the bill for free schools and through his influence it was passed. He has been called "The father of free schools." He held many offices in the gift of the people, both local and state wise, and was for a number of years United States deputy collector of internal revenue.

He was a power in politics in the Nineteenth District,clear headed and far seeing, doing good service for the Republican Party. His judgment was good and when followed, success in almost every case resulted. Firm and unyielding as a rock, he was nevertheless a true, tried and trustworthy friend. He never dissembled and never betrayed the trust and confidence placed in him. He was treasurer and director in the Higganum Savings Bank from its establishment, and director in "The Bank of New England," East Haddam, from 1857 to '74, inclusive.