August 20th, 2017 Posted in
Churches
,
Folk Victorian
,
Gothic
,
Groton
,
Shingle Style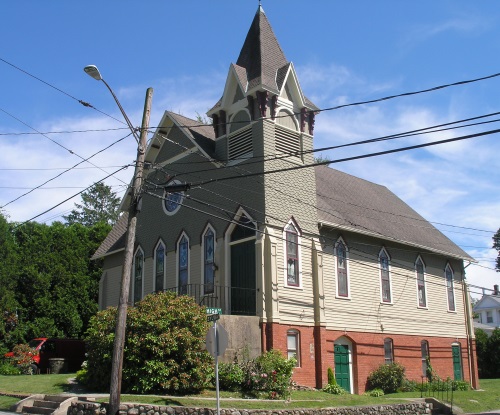 The building at 55 Sylvan Street in Noank, formerly used as a church, was built in 1902-1903. It combines elements of the Gothic and Shingle styles with distinctive Art Nouveau windows. As related in Historic Groton (1909):
The Methodist church was formed as a chapel, partially dependent on the conference for support, in the year 1878. After years of using what was known as the chapel, it became advisable to build a better and larger house, which was done in 1903. They have now an auditorium with a seating capacity of two hundred and fifty to three hundred, fitted with modern improvements. A well equipped kitchen and Sunday school rooms are below the main auditorium.
The Noank Methodist Church later merged with the Groton Methodist Church to form Christ United Methodist Church, which moved to a new building at 200 Hazelnut Hill Road in 1972. The former Noank Church was converted into a residence.