August 10th, 2017 Posted in
Federal Style
,
Guilford
,
Houses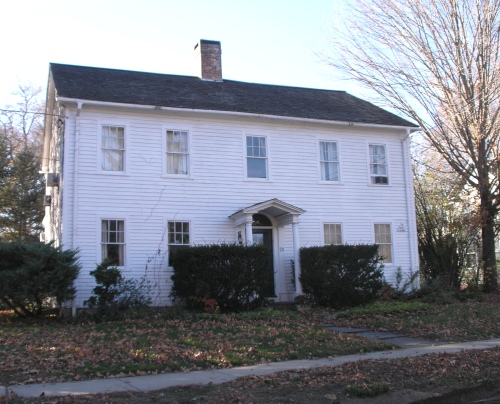 The house at 78 Church Street in Guilford was built in 1829, just four years after the street was opened. It was erected by Dr. Joel Canfield (1801-1877). According to his obituary by Alvan Talcott, M. D., in the Proceedings of the Connecticut Medical Society, Eighty-Sixth Annual Convention (1877), Dr. Canfield was originally from Chester and studied medicine with Dr. John S. Peters, of Hebron and Dr. Samuel B. Woodward, of Wethersfield. He then studied at Yale in 1823-1824.
He received a license to practice as a physican [sic] and surgeon in March, 1824, and on the 1st day of June following he commenced practice in Guilford, Conn., locating himself, the first year, in the parish of North Guilford. One year afterwards, he removed to the village of Old Guilford, on the same day with the decease of Dr. Joel L. Griffing, of Guilford, a physician of much promise, who died of phthisis at the age of 36. Dr. Canfield succeeded to his business, and had at once a large and lucrative practice. Other practitioners, however, came in after a few years, and divided the business with him.
On January 10, 1827, he married Lucretia M. Bartlett. She died in 1876 and, according to the doctor's obituary, "he appeared never to have recovered from the shock." Dr. Canfield was given an honorary medical degree by Yale in 1847. He was also active in the anti-slavery and temperance movements. As his obituary concludes:
On the morning of April 9, 1877, being in usual health, he took the cars for Saybrook, and from thence for Chester, hired some boys to row him across the Connecticut river, and was on his way to visit a brother and a niece in Hadlyme. After walking a few rods in a lonely road, and when out of sight of any human being, he was stricken down by failure of the action of the heart, and died almost immediately. Some five hours afterwards his body was found, his left hand still grasping a stone in the wall for support. His funeral was attended on the 11th, in the Third Church of Guilford, by a full assemblage of his relatives and friends, with very appropriate remarks from his pastor, Rev. George W. Banks. His age was 76 years and 30 days.