August 8th, 2017 Posted in
Greek Revival
,
Houses
,
Mystic
,
Stonington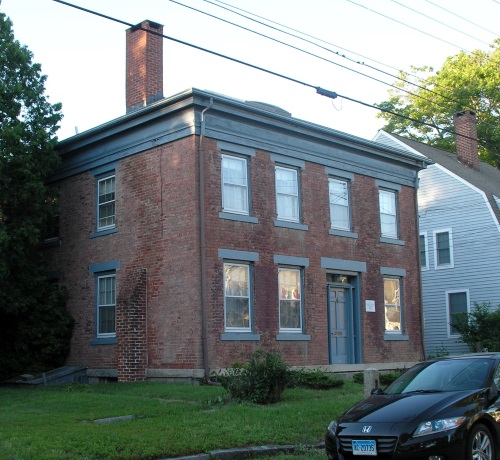 The brick house at 35 Church Street in Mystic was built in 1851. A sign on the house indicates it was the home of Capt. Joseph W. Holmes of the Corolanus. Joseph Warren Holmes (1824-1912) was noted for being the captain to have made the most voyages around Cape Horn (84). He also sailed around the Cape of Good Hope fourteen times. In 1865 he bought a larger house at the corner of High Street and Old New London Road in Mystic. According to the Biographical Review, Vol. XXVI: Containing Life Sketches of Leading Citizens of New London County, Connecticut (1898):
It is doubtful if Captain Holmes's record as a mariner is paralleled by that of any other. For nearly or quite sixty years he has followed the sea. No vessel under his command has ever been lost or shipwrecked, and not a man of all his crews was ever lost.
The same book elaborates his career: at the age of seventeen, having made several early voyages,
in the spring shipped on the bark "Leander," under Captain Bailey, with whom he made his first voyage around the world, completing the circuit in twenty-two months. The "Leander" was engaged in whale fishery in the South Atlantic, South Pacific, and Indian Oceans. At twenty-one he became master of the same bark, on which he made three voyages, the second and third of twenty months each. Leaving the " Leander" in 1847, he went in the "Coriolanus" on a whaling trip to the Indian Ocean, followed by a voyage to the Arctic Ocean, where the ship was filled in sixty days. He continued to engage in the whale fishery until 1854. After leaving the "Coriolanus," Captain Holmes was successively commander of the "Fanning," "Frances," "Haze," "Twilight," and "'Seminole"; and for the past ten years or more he has had charge of the "Charmer," a full-rigged merchantman, which sails from New York to San Francisco and foreign ports.
The house at 35 Church Street is nearly identical to the neighboring house, built in 1846 at 33 Church Street, but without the covered front portico and enclosed side porch that were later added to the earlier structure.