July 31st, 2017 Posted in
Chaplin
,
Federal Style
,
Houses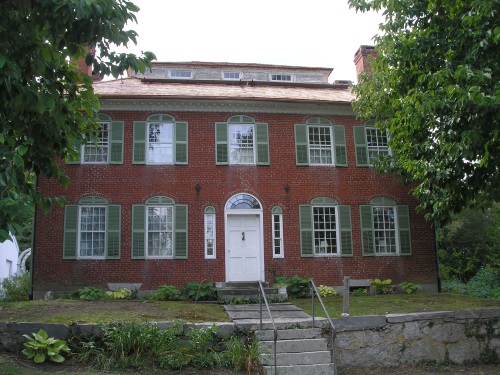 Dr. Orin Witter of Chaplin built the brick house, with distinctive monitor roof, at 73 Chaplin Street c. 1820, when he was first setting up his practice. He also served as the first Town Clerk of Chaplin. The house remained in the Witter family until 1960, being the home of Dr. Orin Witter II and Orin Witter III. As related in the Commemorative Biographical Rrecord of Tolland and Windham Counties (1903), the first Dr. Witter
became a noted physician and one of the town's most prominent citizens. He studied medicine with Dr. Hutchins, of Brooklyn, and later with Dr. Thomas Hubbard, of Pomfret, completing his studies at Yale Medical College in 1820. During the same year he established himself as a physician, in Chaplin, Conn., and soon gained the confidence and approbation of the people. Two years later, when the town was incorporated, he was chosen the first town clerk, and was later a member of the board of education, and was also made judge of probate in his district. The latter office he held for many years, until age excluded him from service.

For nearly fifty years Dr. Witter continued in practice, retiring about two years previous to his death, which took place Feb. 2, 1869. Dr. Orrin Witter was married to Florinda Preston and two daughters and one son were born to them, one daughter dying in infancy, and the other, Cornelia, marrying Dr. E. C. Holt, of Bennington, N. Y. The son, Dr. Orrin Witter, was born in Chaplin, Conn., April 25, 1835, and married Helen A. Utley, a third of the name, their son, also being a physician. Dr. Witter (2) attended Yale Medical College, and also the College of Physicians and Surgeons in New York City, graduating from the latter institution in 1859. He succeeded to the practice of his father and has since conducted the same with remarkable success, in spite of the fact that he has been blind for several years.
As noted in A Modern History of Windham County, Connecticut, Vol. I (1920):
The first Dr. Orrin Witter located in Chaplin in 1820, his son, Orrin Witter, Jr., began practice in 1860. The elder died in 1869, and the junior in 1907. Dr. Orrin Witter III retains the old homestead as a summer residence, but is a practitioner in Hartford.
In 1960 the house was purchased by another doctor, Brae Rafferty, M.D., who restored it with his wife, Ann Postemsky Rafferty.
Below is a picture of one of two historic barns on the Witter property.