July 10th, 2017 Posted in
Colonial Revival
,
Groton
,
Houses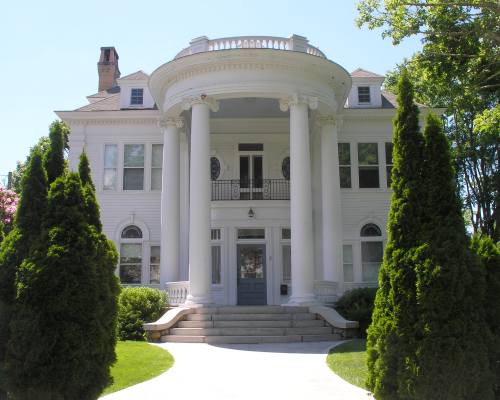 In 1850, Robert Palmer and his brother started a shipyard in Noank that would be continued until the death of Robert's son, Robert Palmer, Jr. (1856-1914). The Palmer shipyard became the largest business enterprise in Noank. Robert Palmer, Jr. resided in the grand Colonial Revival-style house at 25 Church Street in Noank, built in 1907. His biography is related in Genealogical and Biographical Record of New London County, Connecticut (1905):
Robert Palmer, Jr., was born Feb. 15, 1856, and he received his education in the schools at Noank and Mystic, and at Scholfield's Business College, at Providence, R.I., finishing the latter at the age of twenty-one. He entered his father's employ, and has thoroughly familiarized himself with every branch of the business. In 1877 he was admitted to partnership, the firm name being Robert Palmer & Son, which was afterward changed to Robert Palmer & Sons. On Dec. 10, 1897, when a stock company was formed, Mr. Palmer became the secretary and treasurer, and has proved himself a most important factor in the progress of the Palmer shipyard. He has shown himself a genius as a shipwright, and under his direction the Company has built several fast boats of unique design, which have carried off a number of regatta prizes.

The "Irma," built in 1894, and owned by Fred Allen of Galveston, Texas, was one of the first of these prize winners, showing remarkable adaptability for racing in both the calm waters of the Bay, and the rough waters of the Gulf. She was thrice a prize winner, and became known as the "Queen of the Gulf."

The "Novice," built a year later, strictly of original design, a sail boat 27 feet long and 10 feet wide, proved a wonder, easily distancing all class boats, and taking the prize over all the noted boats and yachts in Southern waters. She was of the skimming dish type with an overhanging end, and a center-board.

The "Jennie," a steam yacht 33 feet long, 8 feet beam, attracted much attention among yachtsmen along the Atlantic coast.

The "Gleam," a 24-foot cat boat, but eligible to the 20-foot class, was built in 1895, and won three of a series of races at Bushby Point, July 11, 25, and 31, 1896.

In March, 1881, Mr. Palmer married Miss Elizabeth L. Murphy, of Noank, daughter of Charles and Nancy Murphy. Their only child, Bernard Ledyard, died March 5, 1885, aged two years and eleven months. Like his distinguished father, Robert Palmer, Jr., has long been an interested participant in the political life of his locality, a representative and influential member of the Republican party. The same high standard of citizenship that has so long characterized the Palmer family at Noank, is found in him. In 1886 he represented the town in the Connecticut Legislature, serving on the committee on Appropriations. He is a prominent member and liberal supporter of the Baptist Church.