June 22nd, 2017 Posted in
Groton
,
Houses
,
Mystic
,
Second Empire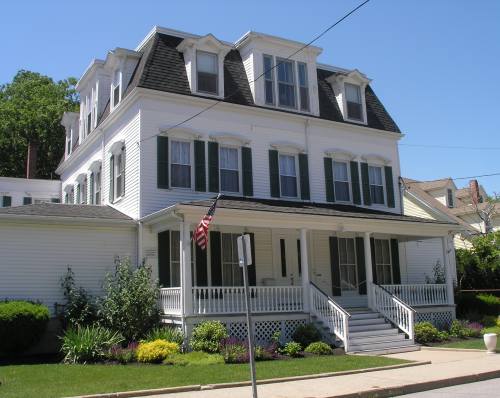 The house at 17 Pearl Street, on the Groton side of Mystic, is currently the home of Dinoto Funeral Home. A sign on the house indicates it was built circa 1874 and was the home of Allen Avery, undertaker. As related in the Genealogical and Biographical Record of New London County (1905), Allen Avery was born in 1838 and married Alice Babcock Hinckley in 1862. As the book continues:
Mr. Avery spent his boyhood days in Old Mystic, securing an excellent education in the public schools and at the academy at Mystic. Leaving school he worked as a ship joiner with his father in the Greenman yards, but in 1864, he embarked in an undertaking business at Mystic, in a store built by his father. Later, he purchased the store, and carried on an undertaking business for a number of years, but about 1884, he retired from that line, continuing, however, to operate his furniture store, which he had in the meanwhile established, until 1895. He is now engaged in the real estate business.
Apparently he lived in the house at 17 Pearl Street for no longer than twelve years, as the biography notes:
For the past seventeen years he has lived on the Stonington side of Mystic, in a house he built in 1886, so that he takes a deep interest in the affairs of the town of Stonington. For thirteen years he was a menber of the executive committee of the fire district. and was one of the organizers of the Hook and Ladder Company, which he served faithfully and ably as treasurer for twenty-one years. He is now vice-president of the Avery Memorial Association. which he served as president for two years. In fact there are few measures of a public character, designed to advance the interests of Mystic, in which he has not been concerned.