June 7th, 2017 Posted in
Colonial
,
Houses
,
Norwich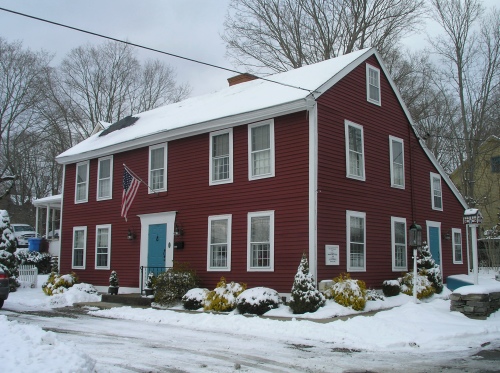 The colonial saltbox house at 199 West Town Street in Norwich, adjacent to Bean Hill Green, is listed in assessor's records as dating to 1724. A sign on the house gives a date of 1723 and the name John Waterman, Jr. This is presumably the John Waterman (1694-1742), who was called junior to distinguish him from his uncle of the same name. John Waterman, Jr. was one of the neighboring proprietors who re-set the green's boundaries at a Town Meeting in 1729.
The sign next lists "Edmund Quincy Gookin, 1726." According to Old Houses of the Antient Town of Norwich (1895), by Mary Elizabeth Perkins, Edmund Gookin, or Goodkin, (1688-1740), of Sherborn, Mass., bought the Norwichtown house of Sarah Knight (who operated a tavern) in 1722 and resided there until 1733, later purchasing a house in the Bean Hill district. Gookin was a follower of the Church of England and the first Episcopalian services in town were held at his house in 1738. According to Frances Manwaring Caulkins' History of Norwich (1866):
The Gookin House was on the central plat of Bean Hill, "bounded southerly on the main road and easterly on the Green:" (now belonging to C. C. Williams.) The last of the Gookin family in Norwich was an ancient spinster, Miss Anna Gookin, who held a life interest in tho house for more than thirty years, and died in 1810, aged about eighty.
The last listing on the sign is "Lt. Jacob Witter's Tavern, 1774." Lieutenant of a militia company, Jacob Witter (1737-1798) kept a tavern/public house at Bean Hill. He was the son-in-law of Capt. Ebenezer Baldwin, who sold Witter his Bean Hill house in 1778. Witter then used that house as a tavern. An intriguing reference in the Genealogy of the Allen and Witter Families (1872), by Asa W. Allen, reads:
Jacob Witter, son of Ebenezer, married and lived on Bean Hill. He had no children and was insane.
Today the house is used as offices.
Image of the Goo(d)kin House from The Connecticut Quarterly, Vol. III, No. 3 (1897):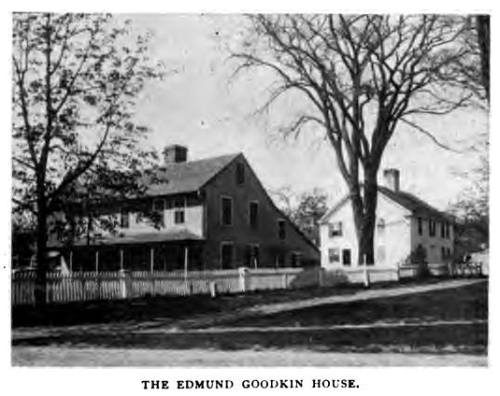 Current plaque on the house: