June 5th, 2017 Posted in
Gothic
,
Houses
,
Plymouth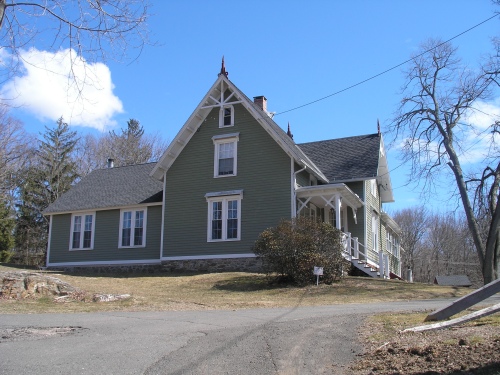 The Horace Fenn House, 32 North Street in Plymouth Center, is a Gothic-style residence built in 1868. As related in New England Families, Genealogical and Memorial, Vol. III (1913), edited by William Richard Cutter,
Horace, son of Jeremiah Fenn, was born August 2, 1833. He was postmaster from 1861 to 1881; town treasurer from 1862 to 1875; treasurer of the Plymouth Congregational Church from 1895 to 1909; treasurer of the Library Association from 1871 to 1909; member of the general assembly of 1887; judge of probate from 1891 to 1893. He resides at Plymouth, Connecticut. He married Ella Calista. born July 8, 1839, daughter of Selden and Lydia H. (Lane) Gladwin, granddaughter of Daniel and Bethia (Buckingham) Gladwin.
They had two sons. Horace Fenn died in 1922.