May 31st, 2017 Posted in
Colonial
,
Houses
,
Wallingford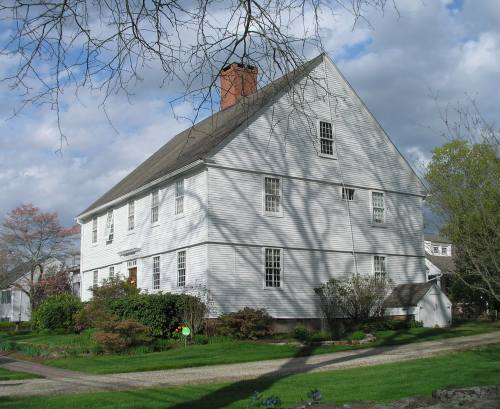 The large house at 1640 Tuttle Avenue in Wallingford was built in 1758 by Col. Thaddeus Cook (1728-1800). As related in Charles Henry Stanley Davis' History of Wallingford, Conn (1870), Thaddeus Cook
was born in that part of the town now embraced in the township of Cheshire. On the breaking out of the war of the Revolution he entered into the service of his country; was made Colonel of his regiment, and was under the command of Gen. Gates during the memorable battle at Saratoga in 1777, and greatly distinguished himself as a brave and skillful officer. He died in Wallingford, Feb. 28, 1800, aged 72 years.
The Colonel's Orderly Book, which preserves a notable order from Gen. Benedict Arnold, is in the collections of the American Antiquarian Society in Worcester, Mass. Thaddeus' grandfather, Samuel Cook, was one of the original settlers of Wallingford and the family owned a large amount of property in town, which extended into what would become the town of Cheshire. Cook Hill Road is named for the family.