April 29th, 2017 Posted in
Craftsman
,
Houses
,
Tolland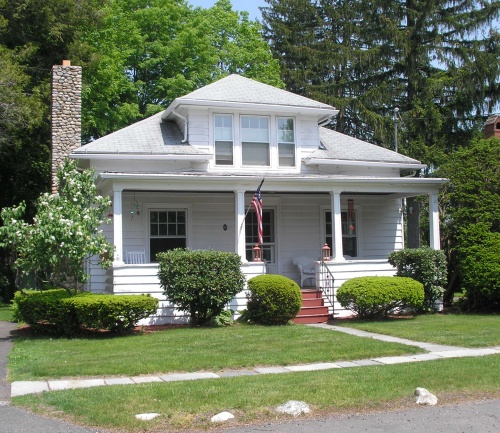 The house at 30 Tolland Green in Tolland is an example of a older building that was later completely transformed. It was built in 1848 by William F. Wescott as a simple gable-front structure. Daniel Ely Benton owned this vernacular residence for a few years while he operating a general store on the corner. Two doctors later owned it and practiced medicine here: Dr. W. H. Clark owned it until moving to New York State in 1888; it was acquired by Dr. Willard N. Simmons in 1889, the same year he received his MD from the University of Vermont and married Alice Phillips. As related in Men of Progress (1898), a Connecticut biographical compendium:
At the time he began his medical studies he was a nurse in the Retreat for the Insane in Hartford. After two years and a half there, he divided his time between the Hartford Hospital and the Connecticut Hospital for the Insane in Middletown, Connecticut. He was also Assistant to Dr. J. E. Root in the Hartford Free Dispensary. He began practice in Tolland, his wife's home, in August 1889, and has remained there since, building up an excellent practice. Most of this time he has been Physician of the county jail and Town Physician. Under appointment by Governors he several times has examined prisoners as to their sanity. From June 1, 1892, to June 1, 1896, he was a Deputy Sheriff of Tolland county, and for eight years has been Medical Examiner of the town.
The house was altered to the bungalow style in 1922.