April 7th, 2017 Posted in
Cheshire
,
Federal Style
,
Houses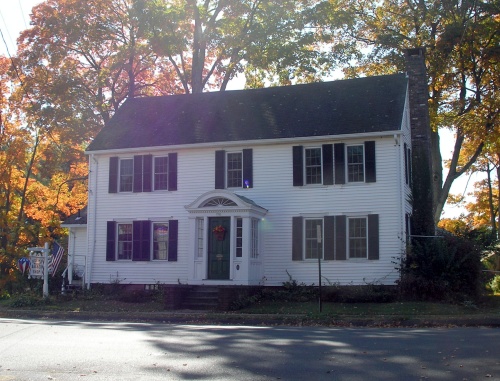 The house at 29 Wallingford Road in Cheshire was built by Stephen Jarvis circa 1780-1800. It was soon purchased by Dr. William L. Foot (1778-1849), probably around the time of his marriage to Mary Scovill in 1801. Dr. Foot was the son of Reverend John Foote (1742-1813), the second pastor of the Cheshire Congregational Church. Near their home, Dr. Foot operated a pharmacy with his son, John L. Foot.
As related in Old Historic Homes of Cheshire, Connecticut (1895), complied by Edwin R. Brown:
Dr. Foote was an excellent physician of the old-school type. Horace G. Hitchcock stated in his "Recollections of Cheshire" that it was owing to the skill of Dr. Foote that the Cheshire cemetery was not ornamented by a small tombstone sacred to his memory, aged twelve years.

At this home, in the year 1837, Edward Doolittle, the son-in-law of Dr. Foote, died of small-pox, and for a time the house was quarantined.

Dr. Foote was not only prominent as a physician, but also as a leading town official. He was town clerk several years, and was the first judge of probate elected from this district and from this town. His daughters, Abigail and Mary, were prominent singers in the Congregational Church choir, where their voices could be distinctly heard above all others. Dr. Wm. Foote was a son of the Rev. John Foote, whose descendants were once numerous and influential in this town.
The house is now home to Norm's Barber Shop.