April 4th, 2017 Posted in
Houses
,
Italianate
,
Tolland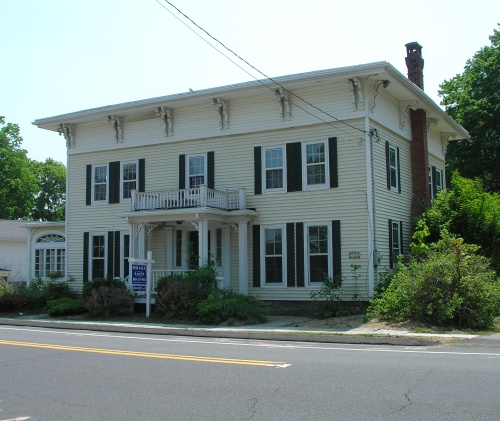 The house at 714 Tolland Stage Road in Tolland was built circa 1790 as a saltbox. After a fire in 1868, the house was rebuilt in the Italianate style by Dr. Gilbert Preston, who owned it from 1845 until his death in 1883. Many of Dr. Preston's medical instruments and other items are on display at the Old Jail Museum in Tolland. The house was later the residence of Dr. Preston's daughter Sarah (1854-1939). As related in the Commemorative Biographical Record of Tolland and Windham Counties (1903):
[Henry Young] was married second, April 21, 1896, to Sarah C. (Preston) Lathrop, of Tolland, a daughter of Dr. Gilbert H. and Sarah (Cogswell) Preston, the former of whom was for many years the leading physician of Tolland, where his personal standing was also very high.
The house was next owned by Sarah's granddaughter, Florence Edith Meacham Anderson (1900-1966). In 1997 the then owner replaced the original wraparound porch with the current entry portico and added a sunroom on the south side.