March 26th, 2017 Posted in
Churches
,
Folk Victorian
,
Prospect
,
Stick Style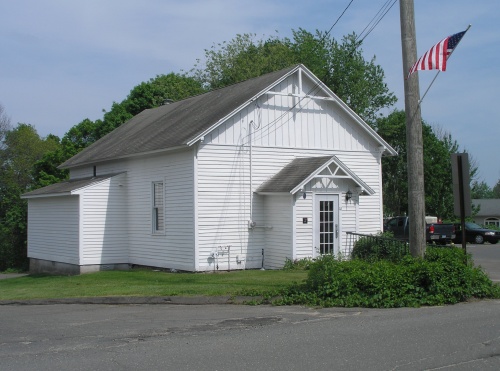 Adventists began meeting in the Town of Prospect about 1850 and in 1886 built a chapel on the Green. As described by J.L. Rockey in his History of New Haven County (1892):
The Adventist chapel, at the Center, which is a small but not unattractive frame building, affords a place of worship for members of that faith. It was built within the past six years. The meetings previous to that time were held in private houses, at "Rag Hollow" and other localities. Moses Chandler was one of the most active in the latter movement to give the denomination a permanent place in the town, and the meetings were for a time held at his house. Other members belong to the Tuttle, Tyler, Hotchkiss and Beecher families. In 1890 there were about a score of members, and Seth Woodruff was the minister.
About 1900 the Prospect congregation merged with an Adventist church in Waterbury. Their former chapel, located at 10 Center Street, became the Chapel school house and then the Prospect Senior Center.