March 21st, 2017 Posted in
Folk Victorian
,
Haddam
,
Houses
,
Stick Style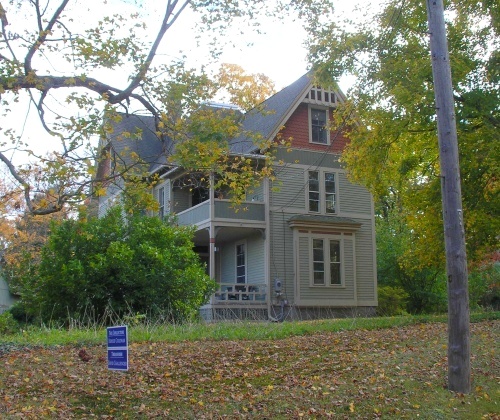 As related in an obituary by George A. Bronson in The Christian Advocate (Vol. 84, No. 11, March 18, 1909), Orlando Burr (1847-1908)
attended the common schools at Haddam, and was graduated from a business college in Poughkeepsie, N. Y. Returning home, he entered the employ of D. & H. Scovil, of Higganum as a bookkeeper, and later was made superintendent, in which position he remained until one year ago. May 18, 1882, Mr. Burr was married to Clara E. daughter of Oliver C. and Augusta Neff, of Higganum. To this union were given two children—Eugene Orlando, who is employed as bookkeeper for D.& H. Scovil, and Ethel Clara, who is a student in Wesleyan University. Mr. Burr was interested in politics, voting somewhat as his conscience dictated, but did not desire political preferment, having twice refused the nomination for representative. Both he and his wife have been consistent members of the Methodist Episcopal Church, of which he was a trustee and steward, also treasurer of the church for some years. He was steadfast, straightforward in his business, devout in his religion and conscientious in politics.
Burr acquired the lot at 33 Maple Street in Higganum (part of Haddam) in 1876 and traveled the country looking for a house design he wanted to duplicate for his own residence. In the end he decided to go with plans he created himself. Construction on the house began in 1881 and was completed the following year, after his marriage. The house remained in his family until 1952.