March 12th, 2017 Posted in
Ashford
,
Churches
,
Greek Revival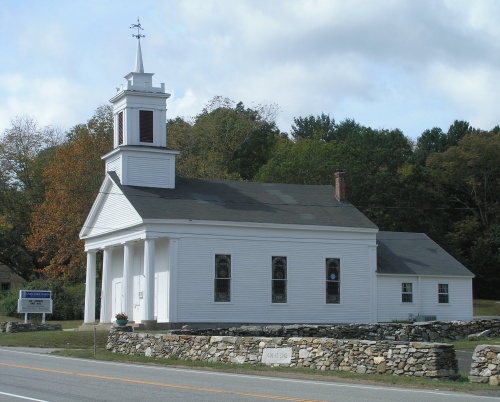 A Baptist church was established in Ashford in the village of Westford in 1780. In 1848 a new church was built in Warrenville section of town, as Richard M. Bayles describes in his History of Windham County, Connecticut (1889):
John Warren, Esq., manifested much anxiety to have a Baptist church organized in the western part of Ashford, in a village on the turnpike from Hartford to Boston and Providence. The First, or as it was often called, the Knowlton meeting house, was not considered so central, nor easy of access as many thought desirable. But the people in the vicinity of the old church were greatly opposed to giving up worship in their sanctuary, and continued for a time to worship there after another congregation was formed in "Pompey Hollow," as the place was then called. Mr. Warren offered a fund to support worship in the Hollow, and the name of the village was changed to Warrenville. A church was organized January 22d, 1848[.]
The meeting house was completed that same year (1848). Later called the United Baptist Church, it is now known as Living Proof Church.