March 3rd, 2017 Posted in
Cheshire
,
Colonial
,
Houses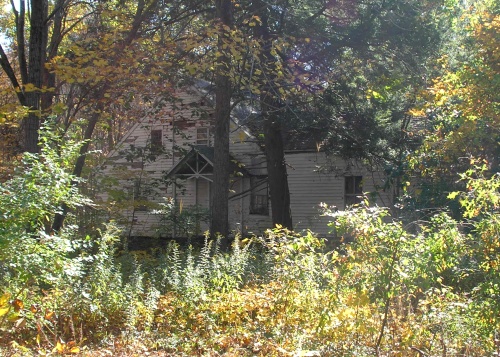 The house at 257 Fenn Road in Cheshire is described in Edwin R. Brown's Old Historic Homes of Cheshire, Connecticut (1895):
This old but well-preserved house is situated about one hundred yards directly south of the Silas Ives place. The main part was built by Nathaniel Ives in about the year 1750. Nathaniel was the youngest son of Deacon Joseph Ives, Cheshire's first settler[.]
Nathaniel Ives had six sons who all served in the American Revolution. His son Jotham, according to Brown,
took an active part in the defence of his country, enlisting under Captain Bunnell of Wallingford, whose company joined Wadsworth's Brigade to reinforce Washington's army at New York. He was engaged in the battle of Long Island, August 7. 1776, and White Plains, October 28th, the same year; also accompanied Washington on his retreat through New Jersey. On his return from the war, he became part owner in his father's house, and later received a deed for his entire interest. He married Lillis Fisk of Providence. R.I.
As Brown relates, their son,
Benedict Ives built the addition to this house and resided here until his death, at the age of 83 years. Uncle Benedict was well known throughout the town as a man fond of his books and a good story. His wife, Betsy Bristol (Aunt Betsy she was called), was noted for her hospitality to friend or traveler, and it was a common saying, by those who frequently passed her door, that "If we can reach Aunt Betsy's by noon, we are sure of a good dinner."