March 2nd, 2017 Posted in
Ansonia
,
Industrial
,
Neoclassical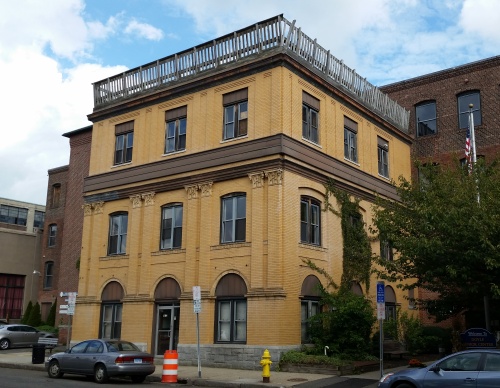 At 153 Main Street in Ansonia is a large former factory building that was built c. 1900 by the Ansonia Osborne and Cheeseman Company. As described in The History of the Old Town of Derby, Connecticut, 1642-1880 (1880), by Samuel Orcutt:
Osborn and Cheeseman conducted a mercantile business in Birmingham some years, and in 1858 went into the hoop-skirt business at that place, and removed to Ansonia in 1859. In 1866 the Osborn and Cheeseman Company was organized with a capital stock of $120,000. Charles Durand was president of the company until 1875, when he sold his interest in the enterprise. The company now manufactures a great variety of goods, such as sheet and brass ware, gilding metal, German silver, copper and German-silver wire, seamless ferrules, and other kinds of metallic goods, which are sold in all parts of the United States.
Attached to the factory on the Main Street side is a yellow brick Neoclassical Revival former company office building (pictured above), erected c. 1910 with a third floor added sometime later. The entire factory building is now known as the Palmer Building because Palmer Brothers Trucking was located there, with other businesses, from 1955 to 1985. The building was then acquired by the City of Ansonia, but remained vacant, except for the Doyle Senior Center on the ground floor, for years as the city tried to sell it to a developer. There are now plans to convert the property for apartments and retail use.