February 7th, 2017 Posted in
Berlin
,
Houses
,
Italianate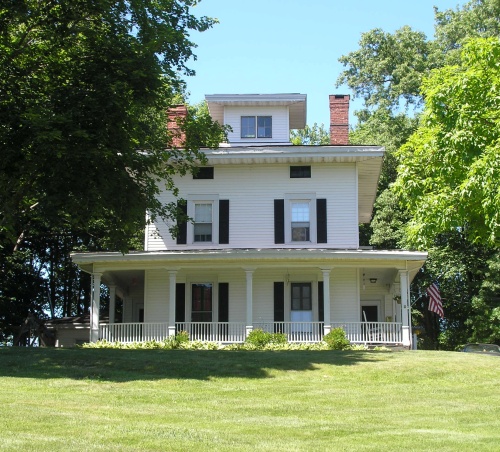 The Italianate house at 289 Main Street in Kensington (in the town of Berlin) was built c. 1855 for Milo Hotchkiss (1802-1874). At first a painter, Hotchkiss became a wealthy landowner (in 1850 his real estate holdings totaled a substantial $5,000). He also operated a station on the Underground Railroad. Hotchkiss was a descendant of Gideon Hotchkiss, who served in the French and Indian and Revolutionary Wars. The biography of Milo Hotchkiss is given in David N. Camp's History of New Britain: With Sketches of Farmington and Berlin, Connecticut (1889):
Milo, son of Charles Todd and Leva H. Hotchkiss, was born at Homer, Courtland County, N. Y., Oct. 10, 1802. He married Rhoda Barrett, a native of Kensington, Jan. 22, 1826. Mr. Hotchkiss improved the limited advantages for education which he had in youth, and acquired habits of careful observation and thinking which characterized him through life. He early developed a natural taste for drawing and painting, and devoted several years to portrait painting, which brought him steady employment until other interests required his constant attention. He removed to Kensington in 1831, where he passed the remainder of his life. He had the care of a farm upon which he worked a part of the time, but was largely occupied in the settlement of estates and in public business. He was for many years justice of the peace, and was notary public until his death. For more than forty years he was a member of the board of school visitors, and for much of the time acting visitor. He was untiring in efforts to advance the cause of education, and especially to increase the efficiency and usefulness of public schools. He united with the Congregational Church soon after coming to Connecticut, and was ever a liberal supporter of gospel ordinances. He was an ardent advocate of the temperance and anti-slavery reforms, sometimes suffering in person and property from the attacks of opponents of these causes. He died Oct. 12, 1874.
As a young man, Nelson Augustus Moore, a Kensington-born photographer and painter, was inspired to further his artistic career after assisting Hotchkiss in painting a life study of a child killed in an accident in 1842.