January 26th, 2017 Posted in
Cheshire
,
Federal Style
,
Schools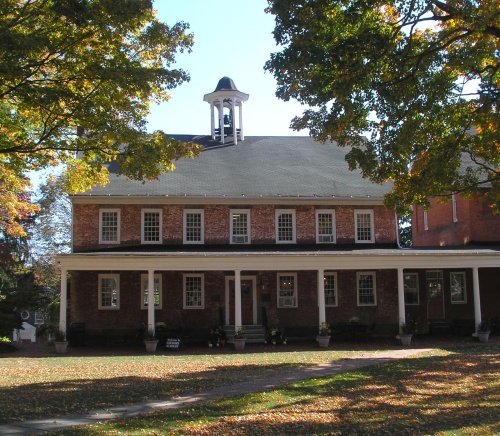 Bowden Hall, part of the campus of Cheshire Academy, is the oldest schoolhouse still in continuous use in the state of Connecticut. Located at the corner of Academy Road and Highland Avenue in Cheshire, it was erected in 1796 for the Episcopal Academy, which would become the Cheshire School in 1903, the Roxbury School in 1917 and finally Cheshire Academy in 1937. As described in Edwin R. Brown's Old Historic Homes of Cheshire (1895):
The original academy was erected in the year 1796. This included only the square building north of Bronson Hall; the corner-stone was laid with Masonic honors, April 28, 1796. An address was delivered on this occasion by Rev. Reuben Ives, through whose influence, more than of any other one man, the academy was established [in 1794] at Cheshire. He was followed by Rev. Dr. Bronson [the Academy's first principal], who delivered an able and appropriate address. This is the oldest institution of its kind in this country, being for many years the most celebrated seat of learning in the State, under the control of the Episcopal Church, and, until the formation of Trinity College, was both college and seminary for this and other dioceses. For several years this institution was open for the instruction of young ladies, and several in this town, and some from other towns, took advantage of this excellent and unusual opportunity for those days.
Until 1865, Bowden Hall was the school's only building. Many have been constructed since. In 1867, Bronson Hall was built just north of Bowden Hall and attached to the older building by a passageway.
Bronson Hall: